Equipped with 4K UHD, 220° rotating camera, capturing footage above & under water
Intelligent fishing experience with all technology, fish-finder and bait container
1000m wireless range with real-time 1080p footage transmission
Rescue response faster than Olympic swimmers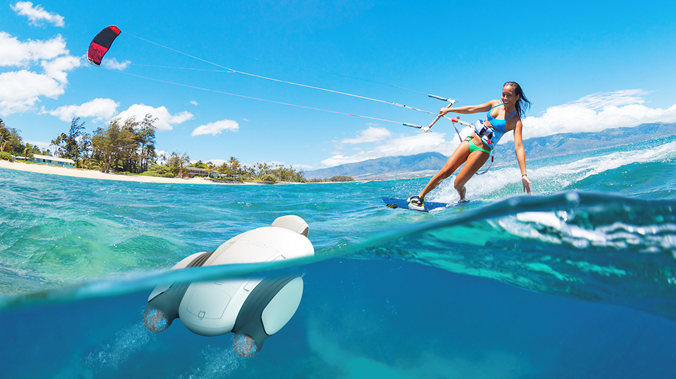 PowerVision is launching the world's first multi-functional water drone which will benefit Australia's fishing advocates, divers and water sports enthusiasts.
Equipped with a 220° dual-joint rotation camera, the PowerDolphin can capture 4K Ultra-High-Definition footage at the heart of the surf action. The camera can rotate 70° above water and 150° below the water, sending real-time 1080 pixel footage wirelessly to your mobile phone through the Vision+ app, with a maximum transmission distance of 1000m.  The drone includes adjustable front lights to capture stunning illuminated photography in various water conditions.
PowerDolphin provides an intelligent fishing experience with an integrated PowerSeeker that fishing enthusiasts will love. The PowerSeeker detects fish within a range of 131ft and travels by waypoint to the perfect fishing spot utilising the built-in sonar GPS to plot the ocean floor.
This cutting-edge technology will tow hooks, lure fish, release bait and capture fish at a distance of up to 1000m, reaching further then a fishing rod. Once the fish bites down on the bait, the PowerDolphin will automatically drag itself back to the controller.
The PowerDolphin can travel at a speed of 5m per second, faster than the Olympic record for the 100m freestyle. A helpful technology for Australia's lifesavers, PowerDolphin's robust design and 3 speed gears enables it to tow and remotely release lifejackets, lifebuoys and other rescue equipment quickly and efficiently. The drone acts a first responder and can reach struggling swimmers and marine incidents before emergency services.
PowerVision has revolutionised the drone industry and has previously launched PowerRay, the world's first underwater drone. With a 4K UHD camera and streamline design, it's able to capture dynamic video and photography of life under sea at a staggering depth of 98ft.
"The PowerDolphin is a new lifestyle robot that is not only suitable for Australia's water sports, photography and fishing enthusiasts, but can also help to protect the country's shorelines with rescue response." explains Wally Zheng, the Founder and CEO of PowerVision.
"PowerDolphin provides a new perspective of life under the sea and can assist marine scientists with underwater mapping, as well as help to discover and document Australia's varying marine life."
PowerDolphin is available to pre-order now from www.powervision.me
RRP: $1299
Power Ray is available to buy online from www.powervision.me
RRP: $2299
Order before 31st December to receive 30% OFF PowerRay
About PowerVision
Founded in 2009 with the goal to innovate the future, PowerVision has introduced intelligent robot products for consumers to use around the world, for both business and pleasure. Products from PowerVision can continuously increase performance and capabilities as the world evolves. PowerVision comprises of nearly 500 employees across China, U.S, Japan, U.K, Canada, France, Germany and Finland.