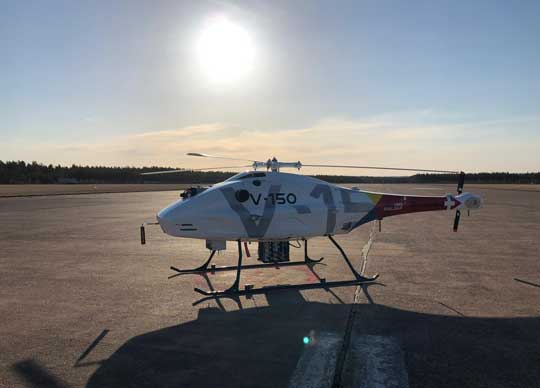 UMS Skeldar is using international defence exhibition DSEI 2021 to announce a unique achievement for its Skeldar V-150 UAS platform. That is the successful Beyond Visual Line of Sight (BVLOS) flight as part of ECARO's customer service operations project.
UMS Skeldar participated in three weeks of flight demonstrations at Grottaglie Airport in Italy. It deployed a full crew, remote pilot station and the V-150 platform. The trials were intended to build knowledge and experience of EGNSS-based flight capacity of unmanned aerial systems into controlled airspace.
Becoming the first UAS platform in its category to fly BVLOS in Europe, the V-150 followed a flight profile and satellite approach procedure designed by ENAV in accordance with new EASA regulations.
ECARO is a multidisciplinary project whose main objective is the adoption of European satellite navigation systems GNSS (Global Navigation Satellite Systems), EGNOS and Galileo, for all civil aviation applications including fixed-wing and UAS operations as well as rotorcraft emergency operations.
David Willems, VP Business Development and Strategy for UMS SKELDAR, said: "Integrating with high precision GNSS based flight procedures into IFR airport rules is a key requirement for adopting a UAS within controlled airspace. As such, we were delighted to be part of such an important project. A complete success, the customer service operations project demonstrated how a robust UAS platform like the V-150 can be integrated into the manned aviation airspace."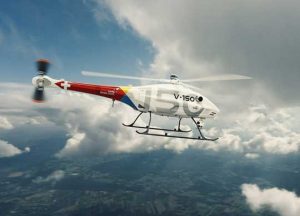 The ECARO project marks the latest milestone for the V-150 UAS since it was launched in early 2020. Looking ahead to the next 12-months, the focus for UMS Skeldar will be on developments to both the V-150 and V-200, including platform updates as well as a continued review of the sensor suites and services offered.
Willems explains: "The dynamic nature of the UAS industry, especially in the military and maritime sectors, demands that manufacturers continually improve their solutions in order to stay ahead of the industry and associated regulations. At UMS Skeldar, our continued innovation programmes have secured us a position at the forefront of the global UAS market – a position we intend to maintain and build upon."