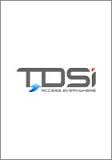 Integrated security solutions manufacturer TDSi is celebrating 20 years of growth and success in the Chinese security market. Exports to China account for 5% of TDSi's turnover and the territory represents its second largest market outside the EU.
TDSi's Managing Director, John Davies, commented, "We have had a phenomenal two decades of business in the Chinese security market, which is largely down to the help and support of our local expert partners. China is a huge and highly competitive marketplace and whilst it is also one of the biggest manufacturing countries in the world, there is a very strong interest in British security products because of their quality and innovation. TDSi is proud to manufacture all of its products in the UK and we firmly believe that our continued success is also down to Chinese buyers' recognition of the top-notch systems we supply through the best local installers."
TDSi began selling in China through C&K before it was acquired by Honeywell. Post that acquisition, TDSi worked through regional distributors in China before establishing TDSi China, a wholly owned entity, in 2008. The company used two distribution partners covering the north and south of the country. However, in a drive to focus and simplify the distribution model, TDSi has adapted its business model to support current and future growth.
John explains, "We have undertaken a strategic review of our routes to market, in order to enhance growth prospects for the next 20 years and to ensure that the channel strategy is fit for purpose for the current market and as it evolves. To do this we have appointed a sole exclusive Master Distributor for the China market – Shenzhen TengDaSi Technology Co.,Ltd.. A new contract outlining and governing this relationship was signed recently and replaces the old regional model that has served us for the past 20 years."
Alex Yuan, General Manager of Shenzhen TengDaSi Technology Co.,Ltd. also commented, "We are very excited to be appointed as TDSi's Master Distributor in China. The brand commands enormous respect in the Chinese security market and is a popular choice for projects where excellent security, flexibility and ease of use are paramount. We are looking forward to working closely with TDSi as it continues to grow its business in China through the next 20 years of success."
As well as a new distribution model, TDSi is aiming to increase its channel partners over the next three to four years. The company has recently appointed new channel partners in Shanghai, ChongQing, Wuhan and Beijing and is looking for more local experts to take its products to the growing market.
For more information on TDSi please visit www.tdsi.co.uk
You can follow TDSi on Twitter: @TDSi_Access
The TDSi YouTube Channel: www.youtube.com/user/TDSIAccessEverywhere
TDSi also has a LinkedIn page: www.linkedin.com/company/1384344
About TDSi (www.tdsi.co.uk)
Established in 1982, TDSi has been at the forefront of the access control and integrated security management market for over 30 years. TDSi's diverse and comprehensive product range encompasses Access Control Systems, Biometric Readers (fingerprint and facial), Security Management software, IP CCTV cameras and storage media and Video Management Software.  The portfolio can be easily integrated into other security and BMS applications and can be deployed at businesses and organisations of all sizes and types.
With customers all around the world, millions of people every day rely on TDSi cards to gain secure, reliable access to installations. ISO9001 accredited, TDSi's access controls range from standalone products to networked and integrated systems for all sectors. The company has customers across a wide range of areas including: Healthcare, Finance/Banking, Education, Transportation, Ports and Airports, Utilities, Industrial and Commercial/Retail. Clients include Bristol International Airport, University of the West of England, Guildhall School, Natwest Bank, Bentley Motors, Vodafone, Université de Caen,CHU de TOURS,Ecole Centrale de Nantes and Arcelor Mital.