The UAVAIR drone training contract for the Australian Army began in 2018 and is continuing in 2019. The contract with the Australian Army has an opportunity for the emerging Australian drone industry, as UAVAIR have been able to expand its highly skilled instructor pool.
UAVAIR is a drone education provider to the Australian Army who are the largest, most experienced and safest operator of drones in the country. UAVAIR are providing drone training across 11 locations around Australia with over 1000 Army soldiers receiving training.
Speaking at the Brisbane Enoggera Army Barracks on Tuesday, 20 August 2019 was UAVAIR General Manager, Mr David Mann who discussed the drone training provided by UAVAIR to the Australian Army in support of the Army Unmanned Aerial Systems (UAS) Drones program. "UAVAIR have significant expertise in commercial drone training and the continuation of the contract with the Australian Army UAS/Drone program, is recognition for the skills and capability that UAVAIR provide in delivering industry leading drone training across Australia." Mr David Mann said.
"UAVAIR is enhancing the contribution and development of the Australian Defence Industry and we are very honoured to be part of the work force behind the Defence Force, in this case to deliver drone training to the Australian Army. We are very well positioned to provide supplier training to other government and emergency services agencies, education providers and schools around Australia."  Mr David Mann said.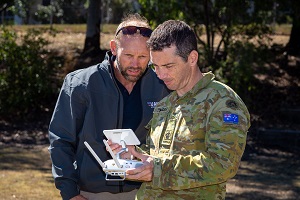 Also speaking at the training was the Australian Army Unmanned Aerial Systems, Staff Officer Grade One, Lieutenant Colonel Keirin Joyce who commented on the training providing by UAVAIR, "UAVAIR was chosen through an open tender to be our training service provider". He commented that UAVAIR's point of difference is their flexibility and recommended their drone training services, "I think they would be an excellent, flexible collaborator for any emergency services provider, or schools or anybody else that's looking to develop their own multirotor unmanned aerial systems capability or projects."
UAVAIR is the premier training provider for Remote Piloted Aircraft Systems (RPAS), delivering its courses from its head office in Newcastle and nationally across its offices around Australia. UAVAIR offers the highest level of qualification available in the commercial sector with links to various industries utilising drone technology.
UAVAIR delivers a range of RPAS training courses for schools, individuals and businesses.
A video compile of UAVAIR and the Australian Army conducting drone training, including interviews with UAVAIR General Manager, Mr David Mann and Australian Army Unmanned Aerial Systems, Staff Officer Grade One, Lieutenant Colonel Keirin Joyce is available on the following link- https://www.youtube.com/watch?v=-iEDz_6ahP8&feature=youtu.be
Media enquiries relating to UAVAIR should be raised with Mr David Mann on 0417 669 231.
More information is available at www.uavair.com.au