Australian advanced manufacturing company Titomic has delivered the largest titanium, unmanned aerial vehicle, or UAV.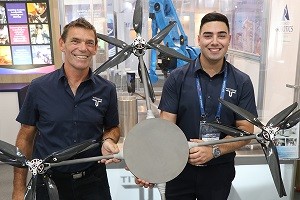 Measuring over 1.8 metres in diameter, the UAV was manufactured at Titomic's R&D Bureau in Melbourne, Australia, where it houses the world's largest and fastest metal 3D printer, the TKF 9000, measuring 9 x 3 x 1.5m. The system incorporates Titomic's patented additive manufacturing (3D printing) technology, Titomic Kinetic Fusion™ (TKF).
Titanium, with its superior strength-to-weight ratio, provides the UAV with a strong, lightweight, ruggedised design and ballistics protection, which will provide durability for reliable in-field use by military and law enforcement and is well-suited for deployment in live combat situations. As titanium's use is often prohibitively expensive and difficult to fabricate using traditional methods, the prototype demonstrates Titomic's ability to utilise high-performance materials, including titanium, in applications that previously did not overcome a manufacture cost-benefit analysis, forcing manufacturers to use lesser desired materials in design, such as heavier metals or fragile plastics.
The technology is widely applicable to the defence industry and can also create parts such as armaments, traditionally created through metal casting, resulting in reduced production time and increased output.
Titomic Managing Director Jeff Lang stated: "We're excited to be working with the global defence industry to combine Australian resources, manufacturing and innovation which will increase our sovereign capability to provide further modern technology for Australia and its defence force".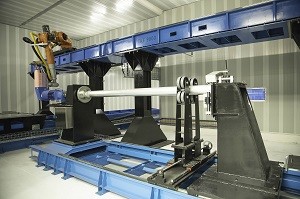 Titomic Kinetic Fusion™ (TKF), co-developed with, and licenced from the CSIRO, is a patented metal AM process utilising supersonic deposition of metal powders to digitally manufacture metal parts and complex surface coatings of super alloys and dissimilar metals such as nickel, copper, scandium and alloys such as stainless steel, inconel, and tungsten carbide. With the unique ability to fuse dissimilar metals and materials, Titomic has unlocked opportunity to create unique materials and engineer parts and surface coatings that are unobtainable via other manufacturing methods. With ability to incorporate multiple metal alloys and materials into single, heterogenous parts, TKF enables the production of parts which exploit the mechanical benefits of multiple high-performance alloys concurrently.
About Titomic Limited:
Titomic (ASX: TTT) is headquartered in Melbourne, Australia. Titomic is positioned to change the value proposition of Titanium, to unlock new applications and open opportunities that are now technically and economically viable with its proprietary Titomic Kinetic Fusion™ (TKF) technology platform. TKF overcomes the limitations of additive manufacturing (3D printing) for metals to manufacture complex parts without shape or size constraints. TKF offers production run capability to organisations, which enables speed-to-market, superior products with lower production inputs using fewer resources for a more sustainable future. Titomic's TKF enables first mover advantage in industrial scale manufacturing for sectors such as aerospace, defence, resources (oil & gas, mining, rail, chemical & industrial equipment), marine, construction, automotive, medical and consumer & sporting goods. For more information, visit: www.titomic.com.