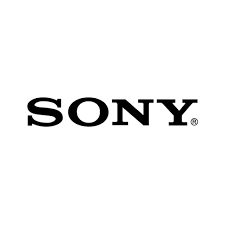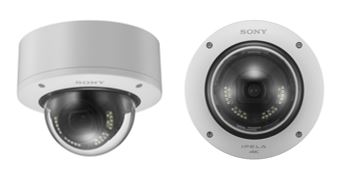 Sony is adding 4K imaging to its line of security technologies, with the new SNC-VM772R camera. The new model combines the enhanced resolution of 4K with low-light sensitivity leveraging 1.0 type back illuminated Exmor R CMOS image sensor, bandwidth optimisation features, and intelligent scene capture capability to adopt the best picture quality, ideal for city surveillance, transportation, railway, traffic monitoring and airport surveillance applications.
4K technology gives security users the ability to capture content at four times the resolution of Full HD (1080p). With the exceptional detail provided by 4K technology, security professionals can expand their wide area surveillance and still capture, magnify and examine the smallest parts of a scene like a face or a car license plate number – all with a single camera. The SNC-VM772R camera combines these benefits with enhanced visibility, reduced total system costs and flexible and easy installation.
"4K is the new video security standard, but 4K imaging means more than just increased resolution," said Mr. Riki Nishimura, General Manager of Visual Security Solutions Division, Professional Solutions Company (PSAP) at Sony Electronics Asia Pacific. "4K holds the potential to expand the applications of security cameras and transform security and surveillance. The increased resolution covers a larger area to improve situational awareness and ensure nothing is missed, and these benefits help security professionals reduce installation and operating costs as fewer cameras are needed for specific areas."
The introduction of the SNC-VM772R to the security industry extends Sony's 4K leadership in the broadcast and production industries, where Sony's 4K cameras are shooting blockbuster movies, popular television shows and major sporting events. Sony's 4K digital cinema projectors are in movie theatres worldwide and Sony's 4K TVs bring content to consumers. Sony has developed several unique technologies to overcome the challenges of 4K cameras in the market: improving visibility and light sensitivity while reducing the amount of bandwidth needed to handle large 4K files.
Low-light Sensitivity
Higher-resolution imaging has traditionally come at the expense of low-light sensitivity. The new SNC-VM772R uses a 1.0 type 20MP Exmor R sensor and is capable of 0.1 lx sensitivity for clear image capture in light and dark conditions. A back-lit structure doubles the camera's light sensitivity and a built-in infrared (IR) light source which enhances low-light use and night-time shooting, with visibility at longer distances. In wide area coverage, various lighting conditions exist during the day and night. The SNC-VM772R also has 90dB wide dynamic range and 30fps to deliver clear, sharp images for better visibility and recognition. Finally, a 2.9-times motorised zoom lens is matched to the image sensor to maximise video resolution. The lens features optical image stabilisation and helps capture images with low distortion.
Flexible Settings and Optimised Streaming
The new camera uses Sony's unique bandwidth optimisation technologies so users can customise streaming settings and the camera's operation.
An Intelligent Coding feature reduces storage and bandwidth consumption by adopting different compression depending on the area of interest. Intelligent Cropping and Multi-Tracking show an overview of an area and allows for "region of interest" selection up to a maximum of four areas at a time, so users can select only the portion of an image they want to see in 4K resolution, while also streaming a scaled full HD image. This results in 50 percent less bandwidth consumption by reducing the amount of video transmitted in 4K resolution, and makes wide area monitoring more effective and targeted.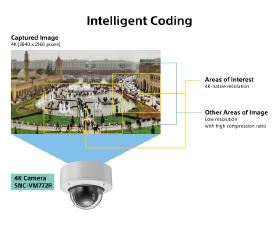 Intelligent Cropping has two patterns for selecting the size and number of areas, and also employs two modes: Static, to view multiple fixed areas in one scene; and Dynamic, to detect moving objects.

Evidence Shot lets users see critical moments in the camera's highest resolution of 20MP in still shot mode, which is 2.4 times more pixel resolution of 4K. Alarms can be sent with Video Motion Detection for specified scenes.  
Wide Selections for Setting Best Images
The Intelligent Scene Capture function automatically adjusts and adapts picture quality (brightness and colour) depending on time, weather and lighting conditions. The SNC-VM772R camera also allows users to customise picture parameter presets for the best settings between day/night and multiple picture configurations can be saved and switched either manually (using the Picture Profile mode) or according to schedule (Picture Profile Scheduler). The new SNC-VM772R is planned to be available in Asia Pacific in the third quarter of 2015. It will be supported by major VMS providers, including AxxonSoft, Exacq Technologies, Genetec Inc., Genius Vision Digital Inc., Lenel Systems International, Inc., Milestone Systems, NICE Systems, NUUO Inc., On-Net Surveillance Systems, Inc., SeeTec AG and Verint Systems Inc.
For more information, please visit http://pro.sony-asia.com/pro/lang/en/hk/products/video-security-4k.