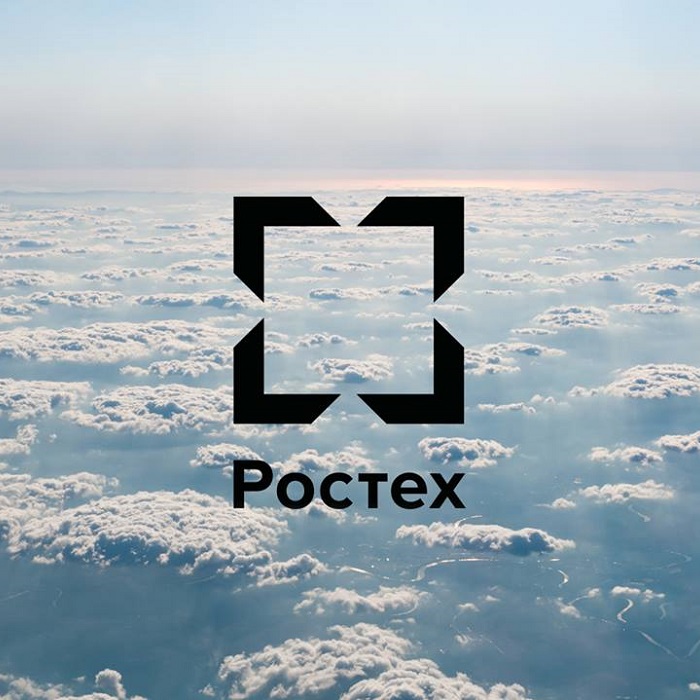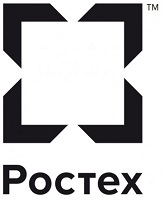 Russian Helicopters Holding (part of Rostec State Corporation) is to present the Russain and international audience with a brand new utility helicopter Ka-62. The presentation is to take place at the third Eastern Economic Forum to be held in Vladivostok on September 6-7. This is the second flight hardware assembled by Progress Aresenyev Aviation Company.
The new helicopter will be publicly presented at the exhibition the Streets of the Far East, which is to take place at the Eastern Economic Forum. It will be the major exhibit at the stand, and will be seen from a distance of over 500 meters from different angles. The total area of the stand will be 450 sqm.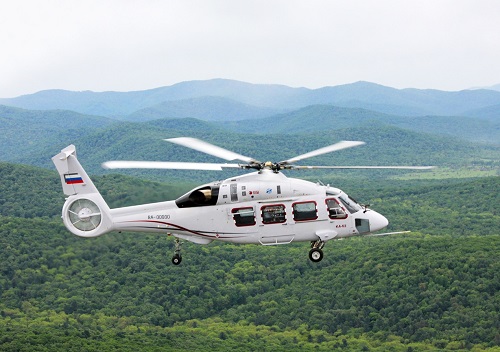 "For the guests from various regions and countries, Ka-62 will become a spectacular example of the scientific, technical and production power of the Primorsk Territory. This helicopter demonstrates the potential of Progress in manufacturing hi-tech products designed for both military and civil use," says Andrei Boginsky, the CEO of Russian Helicopters. "We lay hopes on this state-of-the-art and hi-tech model. I am confident that all potential users will soon be able to fully appreciate all of the advantages of Ka-62."
Ka-62 helicopter is designed for the passenger carriage, off-shore works, emergency medical services, search and rescue, conveyance of cargo inside the cabin and as suspended load, patrolling and environmental monitoring. The high operating ceiling and high power loading of its engines enable Ka-62 to perform the search-and-rescue and evacuation works in mountainous areas.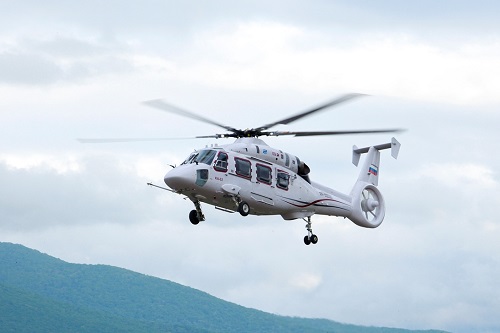 Its airframe stands out with perfect aerodynamic lines, high capacity of the cargo and passenger cabin, the tricycle landing gear with tail support, and large widows which simultaneously serve as emergency exits. Other distinguishing features include the classical scheme with a multibladed tail rotor in the vertical tailfin protected against incidental damages. Moreover, Ka-62 stands out with a low noise level.
Ka-62 is the first helicopter ever in the history of the global helicopter industry equipped with the system for general helicopter equipment control, as well as an integrated open-architecture flight management system built to the principle of 'glass cockpit'. One or two crewmembers can use it for visual and instrument day/night flying in various geographical and climatic conditions.
Russian Helicopters — part of Rostec State Corporation — is one of the global leaders in the helicopter industry, and the only helicopter design and production powerhouse in Russia. Russian Helicopters was founded in 2007, and is headquartered in Moscow. The company comprises five helicopter production plants, two design bureaus, a spare parts production and repair facilities, as well as an aftersale service branch responsible for maintenance and repair in Russia and abroad. Amongst Russian Helicopters customers are Russian ministries and state authorities (Ministry of Defense, Ministry of Internal Affairs, Emergency Control Ministry), air companies (Gazpromavia, UTair), and large Russian and foreign enterprises. In 2016, IFRS revenues of Russian Helicopters were RUB 214.3 billion, and the deliveries reached 189 helicopters.
Rostec State Corporation is a Russian corporation founded in 2007 for promoting the development, production and export of hi-tech civilian and military industrial products. It comprises 700 organizations, which have by now formed 11 holding companies in the military-industrial complex, and three in the civil industry, with over 80 organizations being under direct control. Rostec's portfolio comprises renowned brands, such as Avtovaz, Kamaz, Kalashnikov Concern, Russian Helicopters, and VSMPO-AVISMA. Rostec organizations are located in 60 constituent entities of Russia, and supply products to over 70 countries. The 2016 consolidated revenues of Rostec were RUB 1.266 trillion, while its consolidated net income and EBITDA amounted to RUB 88 and 268 billion. The 2016 average salary within the Corporation was RUB 44 thousand. The new Rostec strategy sees it as the utmost priority to provide Russia with technological advantages at highly competitive international markets. Some of Rostec's primary goals are the introduction of a new technological paradigm and digitalization of the Russian economy.