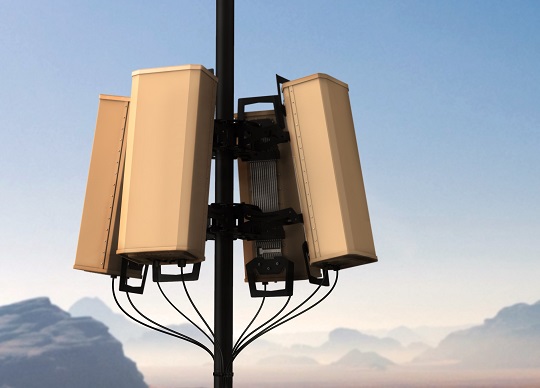 DroneShield Ltd has released the DroneCannon MKII™, a fixed site UAS/drone disruption device.
Following on the numerous successful deployments of the first generation DroneCannon™ around the world, the DroneCannon MKII™ is substantially lighter and more portable, with increased durability and versatility made possible through significant advancements in DroneShield's proprietary waveform technologies, mechanical design and customised electronics.
A non-kinetic countermeasure, the DroneCannon MKII™ can disrupt UAS at significant ranges, enabling users to cover large sites with minimal installation points. Through DroneShield's DroneSentry-C2™ software the DroneCannon MKIITM can be paired with DroneShield's DroneSentry™ fixed site detection sensors such as the RfOne MKII™, enabling it to disrupt UAS threats autonomously, removing the need for a "man in the loop" system.
With the capability to disrupt multiple bands simultaneously including GNSS, the DroneCannon MKII™ ensures customers are protected from commercial off-the-shelf drones as well as custom threats, now commonplace in asymmetric warfare in global conflicts. RF disruption is especially effective against "UAS swarm" attacks and wide antenna azimuth and elevation provide complete coverage from threats including drones directly above the sensor. Frequency bands can be individually activated and de-activated providing more control to the user and reducing the collateral effects of RF disruption.
Oleg Vornik, DroneShield's CEO, commented, "DroneCannon MKII, with its lighter, more compact design, ruggedness and incorporation of advanced technologies, integrates seamlessly within DroneShield's DroneSentry C-UAS ecosystem, and with third party systems as a stand-alone effector. Its complete dome coverage area is substantially superior to the "donut" coverage of other systems on the market. DroneShield is presently delivering this product to several key customers globally, under the purchase agreements with these customers."
The product is available now for purchase now to qualified customers, where lawful*.
---
Disclaimer:
*DroneCannon has not been authorized as required by the United States Federal Communications Commission ("FCC"). This device is not, and may not be, offered for sale or lease, or sold or leased, in the United States, other than to the United States government, its agencies, and its properly delegated representatives, until such authorization is obtained. The use of DroneCannon in the United States by other persons or entities, including, in certain circumstances, state or local government agencies, is prohibited by federal law. Laws limiting the availability of DroneCannon to certain types of users may apply in other jurisdictions, and any sales will be conducted only in compliance with the applicable laws. Emergency broadcasts, cellphone communication and other dedicated channels will not be affected.