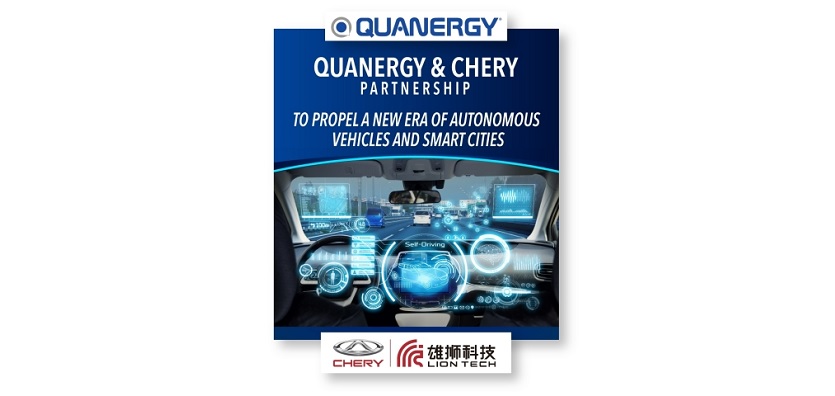 Quanergy Systems, Inc., a leading provider of LiDAR (Light Detection and Ranging) sensors and smart sensing solutions, announced a partnership with Chery Automobile, one of the largest automotive manufacturers in China.
Quanergy signed on to Chery Lion's Smart Partner Program as the LiDAR partner, to focus efforts on advancing autonomous driving and smart cities in China.
"As the autonomous vehicle industry matures, it is imperative to build an ecosystem that supports a transportation network with reliable solutions." said Dr. Yong Huang, Vice President, Intelligent Vehicle Business Group of Chery. "We'll work closely with Quanergy on Chery's autonomous driving vehicles and smart city installations."
Quanergy's S3 automotive grade solid state LiDARs are based on optical phased arrays (OPA) produced in CMOS silicon. These sensors, being fully solid state with no moving parts on any scale, offer an unparalleled level of quality and reliability. Further, the CMOS silicon node used in wafer fabrication is mature, allowing to rapidly scale manufacturing at high yield and meet performance requirements at the lowest price on the market.
On the way to the realization of an autonomous age, smart city infrastructure plays a crucial role as road paver. Internet of Things (IoT) capability in smart cities connects vehicles with essential digital information, reducing traffic congestion and making roads safer.
QORTEX DTC™ (Detection, Tracking, Classification), Quanergy's proprietary solution based on LiDAR hardware and artificial intelligence (AI) software, can play a key role in monitoring and regulating the flow of vehicles and people at intersections, and can communicate data to the connected vehicles. When combined with 5G cellular network technology, QORTEX DTC provides the necessary awareness and analytical insight into the city's various connected components and ensures safe and efficient traffic flow.
"China is at the forefront of mobility innovation, and Chery is making massive strides in bringing not only intelligent vehicles but also intelligent transportation systems to market," said Dr. Louay Eldada, CEO and co-founder of Quanergy. "Chery has selected Quanergy as its LiDAR partner, and together we will forge the next chapter of autonomy in China."
Through the partnership with Chery, Quanergy is continuing its commitment to deliver its smart sensing technologies to its partners globally.