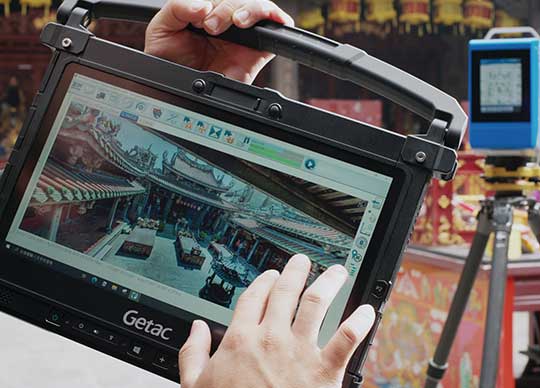 Getac's rugged K120 tablet has been used along with 3D laser scanners by LeaderTek in a project for the Bureau of Cultural Heritage of the Ministry of Culture in Taiwan to create 3D models of the culturally significant Lugang Mazu Temple and its historical artifacts.
Lugang Mazu Temple, built in 1591, and other age-old artifacts are prone to deterioration caused by weather, natural disasters, and other man-made factors. For example, the Phoenix Palanquin (a man-drawn carriage used to carry deities) was used to carry the Mazu goddess on pilgrimages for hundreds of years. The palanquin was rapidly deteriorating; however, with digital modelling, precise records have now been made, which can serve as reference for future restoration. Digital modelling is both necessary and urgent to protect Taiwan's invaluable historic artifacts.
As part of the Taiwan Ministry of Culture's e-Taiwan Project, the Getac K120 rugged tablet was used to help record a detailed panoramic and complete view of Lugang Mazu Temple, bringing the skilful handicraft and artistic concepts of Taiwan's ancestors back to life.
Yao Liang-Chu, manager, LeaderTek, said, "LeaderTek chose the Getac rugged K120 tablet, along with 3D laser scanners and 3D point cloud processing software, to present point cloud data scanned in a timely manner."
In the past, LeaderTek had used laptops and 3D laser scanning software and hardware. However, since most commercial laptops cannot maintain high efficiency for long periods of time, the LeaderTek team had to stop working and wait for the laptops to cool down every one to two hours. Furthermore, the team could not inspect the data taken from 3D scanners on the spot because of glare on the laptop screen, which lowered the team's work efficiency.
Yao Liang-Chu said, "Using the Getac rugged K120 tablet, LeaderTek significantly enhanced its work efficiency due to the device's long-lasting, high-efficiency capabilities. The Getac K120 can work for six hours consecutively, so the team no longer needs to wait for the device to cool down onsite. At the same time, the team can also immediately inspect the point cloud status of the 3D laser scanners and find any unsatisfactory scanning results directly onsite and correct them immediately because of the K120 tablet's high-visibility screen, which is easy to read even in direct sun."
Moreover, working outdoors is coupled with an ever-changing environment which often jeopardised work quality in the past. For instance, accidents damaged the consumer-grade laptops.
Frank Baldrighi, business development manager, Getac Technology Corporation, said, "To tackle all this, Getac provided its special design solutions. The professional K120 tablet is equipped with a light adjustment button to adjust the brightness of the screen. The K120 tablet also meets military-grade specifications and IP66 standards. As a result, the device is shakeproof, waterproof, and dustproof, making it an ideal choice for working outdoors."
Yao Liang-Chu said, "In the past, 3D scanning was limited by the capabilities of the consumer-grade laptops that LeaderTek was using. Users could only scan 20 station points at most per day. With the Getac rugged K120 tablet, users can now scan up to 70 station points a day, boosting efficiency by 250 per cent. Furthermore, the ruggedness of the tablet prevents interruptions in digital modelling due to environmental issues and ensuring smooth work days. LeaderTek will continue to use the Getac K120 and preserve the beauty of Taiwan's historical monuments through the use of digital technology."