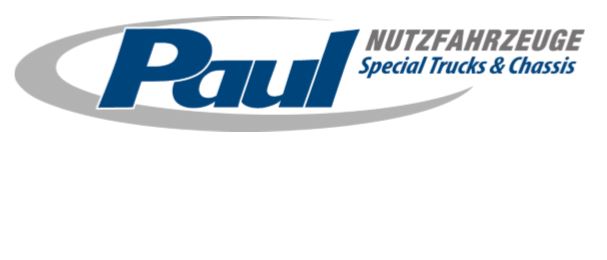 Truck chassis – modification and innovation
Tailor-made: conversion solutions for special areas of use
In focus: increase in load-carrying capacity and agility
New: leading axle for Mercedes-Benz Arocs tipper truck chassis
New: rear axle auxiliary steering for Mercedes-Benz Econic
New: trailing axle for concrete pump carrier
At the 65th IAA Commercial Vehicles in Hanover, Paul Nutzfahrzeuge GmbH is exhibiting a representative cross-section of its range of truck chassis modifications, which meet the highest quality standards and OEM specifications. The Paul Nutzfahrzeuge GmbH exhibition booth no. M 72 is located in the 4th aisle of the Hanover Exhibition Centre and can be found in the open-air area, directly adjacent to Halls 14 and 15.
Paul Nutzfahrzeuge is internationally recognised for its high-quality conversions of Mercedes Benz commercial vehicle chassis and at the same time for highly-specialised chassis and complete vehicles from its own development and production. The Paul product range is conceived for the toughest applications in the mining, construction, municipal and agricultural sectors. It offers alternatives to pure custom and special vehicle developments at adequate costs. Many people probably still remember the 'Heavy Mover', with which Paul Nutzfahrzeuge GmbH drew a great deal of attention at the IAA Commercial Vehicles 2012.
Exhibits at the IAA Commercial Vehicles 2014  The Passau-based specialist for chassis conversions will present modified examples from the Mercedes Benz Euro-6 chassis range for the first time from 25 September to 2 October 2014. Innovative leading and trailing axles, hydraulic steering systems and rear axle auxiliary steering units will be on show. The modified chassis are based on standard chassis from the Mercedes Benz Arocs and Econic truck series, whose range of applications  has been significantly enlarged by the highly specialised Paul conversions.
Each of the extremely robust chassis has been individually adapted to the specific purpose of use. The necessary adaptations are carried out in accordance with the requirement profile defined by the customer in order to ensure both safe use and availability under all topographic and climatic operating conditions at the intended operational site. This tailor-made optimisation ensures an efficient and reliable accomplishment of the specific tasks required by the operator.
Leading axle turns tipper truck chassis into an agile five-axle unit  A 40-tonne tipper truck chassis based on the Mercedes Benz Arocs 4151 K 8×4/4 has been specially conceived for construction assignments in Switzerland. Highlights are the installation of a leading axle with air suspension, lifting device and an axle load of 8 t as well as the equipment with an electro-hydraulic steering system. As a result, agility when manoeuvring in confined building site areas is considerably increased. The re-positioning of AdBlue tank, stack battery carrier, compressed air tanks and brake valves between the axles or within the frame, the modification of the wheelbase to 5550 mm and the equipment of the auxiliary axle with ventilated 10-hole steel wheel rims and 315/80R22.5 tyres enable the construction of mobile crane, dropside or mixer truck superstructures in Switzerland. Fuel oil, silo and bulk transport is also possible without restrictions when equipping the chassis with  adequate superstructures.
Fire engine chassis with rear axle auxiliary steering  Fast and safe arrival is vital in fire extinguishing and rescue operations: Paul Nutzfahrzeuge has developed an all-wheel steering system in order to increase agility, especially in confined inner-city areas with dense traffic. On the Mercedes Benz Econic 1830 L 4×2 chassis with single Michelin XZY3 425/65R22.5 tyres that is on show in Hanover, the rigid rear axle has been replaced by an electro-hydraulically steered axle with differential lock and drum brakes. This makes both front and all-wheel steering possible as well as diagonal steering and manual rear axle steering. This IAA chassis serves as reliable basis for fire engine superstructures which earmark it for use as a German fire-engine type HLF 20. However, it can also be configured for use with a turntable ladder. Since an original front axle from Mercedes Benz has been installed as a steered rear axle, service and maintenance work can be carried out in authorised Mercedes Benz workshops anywhere in the world. This also represents a huge advantage relating to spare parts availability.
Trailing axle for use as heavy-duty carrier with concrete pump
Within the context of the Driving Experience on the road safety site in Hanover-Laatzen, Daimler AG is exhibiting a five-axle Mercedes-Benz Arocs 4445 K 10×4/6 that has been prepared by Paul Nutzfahrzeuge for the attachment of a concrete pump. An electro-hydraulically steered 9.0-tonne trailing axle has been installed for this in order to ensure the necessary load- carrying capacity for such heavy superstructures. The distance to the second  rear axle is 1450 mm. The technically possible overall weight following the conversion is around 47 t and can even be increased to a maximum of 50 t. Further conversion work carried out by Paul Nutzfahrzeuge includes, for example, the relocation of battery carrier, compressed air tanks and brake valves, as well as the integration of axle and axle guide into the frame, plus the installation of parabolic control arms for axle guide, shock absorbers and air suspension bellows. The change to steel wheel rims of the dimension 385/65R22.5 has  also been carried out by Paul Nutzfahrzeuge.
About Paul Nutzfahrzeuge GmbH – Special Trucks & Chassis Paul Nutzfahrzeuge GmbH converts more than 1000 commercial vehicles per year. High-quality production and on-time delivery of custom-engineered solutions for specific applications are the specialty of the globally active company headquartered in Passau, and have made it a market leader. Special chassis modifications, incorporation of additional axles or special vehicle configurations for a variety of different fields of application are developed, implemented and produced in close cooperation with the customer. Development and production of the company's own chassis, such as the "Heavy Mover" destined for use under the extremely harsh conditions to be found in open-cast mining and oil exploration, are an increasingly important part of the company's special vehicle construction activities. On a worldwide scale, more than 160 employees work for Paul Nutzfahrzeuge's Special Trucks & Chassis unit in the areas of vehicle construction, service and sales.