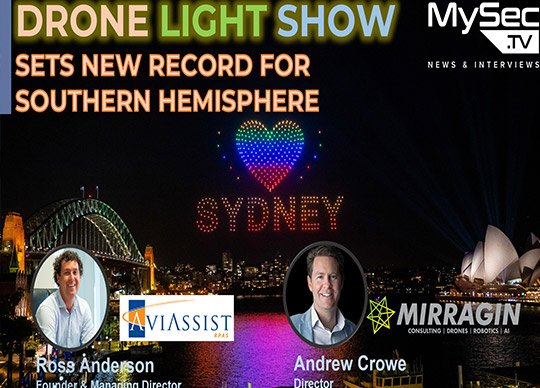 The ELEVATE Sydney SkyShow – with around 500 drones lighting up the Sydney sky – ran over the iconic Sydney Harbour from January 1 to 6. The 11-minute show broke a Southern Hemisphere record for most number of drones in the sky at the same time.
Australian drone company, Aviassist, played a central role in the event, training and accrediting the international pilots from computer giant, Intel.
Mirragin director, Andrew Crowe, is calling the event a win for Australian ingenuity. "The fact Intel turned to Aviassist and Mirragin says it all," he says. "This show wouldn't be happening if not for two Australian companies working together to get the right training and accreditation for Intel. These images are being beamed around the world and it's all thanks to a pair of local drone businesses."
Ross Anderson is the Founder and Managing Director of Aviassist, Australia's leading drone pilot training service. A pioneer and innovator, with over 17-years of industry experience, Ross has a passion for helping other businesses soar through the use of remotely piloted aircraft systems. Ross developed one of the first commercial drone training courses to be recognised by the industry regulatory CASA (Civil Aviation Safety Authority), and as a result, is seen as the authority in this field. Through Aviassist, Ross has arguably enabled more operators in the RPAS space than any other individual.
With over 15 years experience in uncrewed systems, surveillance, and leadership in the Australian Army, Andrew Crowe is uniquely placed to help your defence organisation implement and execute drone technology with demonstrated outcomes. A positive communicator, Andrew is able to engage with diverse stakeholders and is adept at breaking down silo operations, experience which will help ensure your next drone project is a success.
Recorded 18 January 2022
#drones #droneswarms #elevatesydney
(apologies for intermittent mic issues with Mr Crowe)