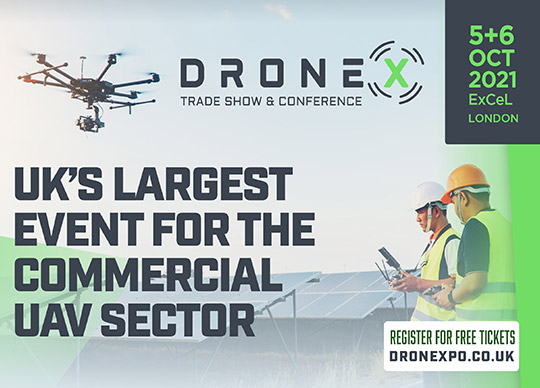 DroneX Trade Show & Conference, the UK's largest event dedicated to UAV products, parts, accessories and services, will be running alongside the Helitech Expo this year at the ExCeL London on the 5th & 6th October.
The Helitech Expo has recently been taken under new management by the multi award-winning PRYSM Media Group, and is bringing with it a new show dedicated to the UAV industry.
With over 300 exhibitors, 100 seminars and 3000 visitors from within the four industry sectors including Commercial, Emergency Service & SAR, Military & Defense (Surveillance), and Future of Flight (Urban Air Mobility), DroneX is the can't-miss event of the year for the industry! The show will feature an Emergency Services zone, Cinema Experience, Keynote Theatre, Live Demos, UAV Theatres, and much more, all leading to unparalleled networking opportunities.
DroneX promises to be filled with informative, inspiring, and innovative ideas directly from front runners of the sector. This plethora of content will assist the discovery of the latest advancements from the people who are on the front foot as the UAV industry continues to adapt and diversify.
According to the Economic Report, the Drone industry is expected to grow to more than $82.1 billion USD in annual revenue by 2025. Drones are allowing numerous sectors to transform and improve safety, which is why more and more companies are incorporating drones for many different purposes.
The show will give you the opportunity to visualise the endless possibilities of unmanned vertical flight, and see firsthand the latest technological advancements.
PRYSM Media Group are more determined than ever to bring you the most informative, replenished show to date and with the support from the likes of our leading partners, who have expressed the importance of Helitech Expo and DroneX Tradeshow & Conference this year. We cannot wait to finally open our doors in person and welcome you to the show in October!
Adnan Hiroli, Event Director of DroneX, said "We are so excited to be hosting the DroneX Tradeshow & Conference first ever show this year, in person, at the ExCeL London. Drones have become a must-have throughout many different sectors and the possibilities of unmanned vertical flight are endless. We cannot wait to welcome you to the biggest and best UAV event of the year, you do not want to miss it."
Go and register for your free tickets to the show now to avoid missing out on the biggest event for the UAV industry!