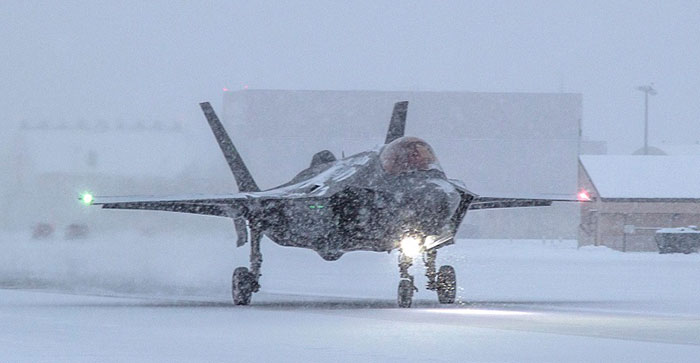 Maj. Jonathan "Spades" Gilber, U.S. Air Force F-35 test pilot, demonstrates the handling qualities of Lockheed Martin's F-35 Lightning II during icy runway ground testing at Eielson Air Force Base, Alaska. The testing is part of the certification process for the Norwegian drag chute and continues over the next several weeks. Maj. Eskil Amdal, test pilot with the Royal Norwegian Air Force, is also participating.
This initial testing is the first of two phases to ensure the F-35A can operate in these extreme conditions. The second phase of testing will deploy the Norwegian drag chute during landing operations and is planned for first quarter 2018 at Eielson.
About the Norwegian F-35 Drag Chute
The F-35A drag chute is designed to be installed on all of Norway's F-35As and is form fitted to ensure it maintains stealth characteristics while flying. Norway and Lockheed Martin are working with the Netherlands who is sharing in the development of this critical capability. The drag chute underwent initial wet and dry runway deployment testing at Edwards Air Force Base, California earlier this year.
For additional information about the F-35 program, visit our website: www.f35.com.
About Lockheed Martin
Headquartered in Bethesda, Maryland, Lockheed Martin is a global security and aerospace company that employs approximately 97,000 people worldwide and is principally engaged in the research, design, development, manufacture, integration and sustainment of advanced technology systems, products and services.