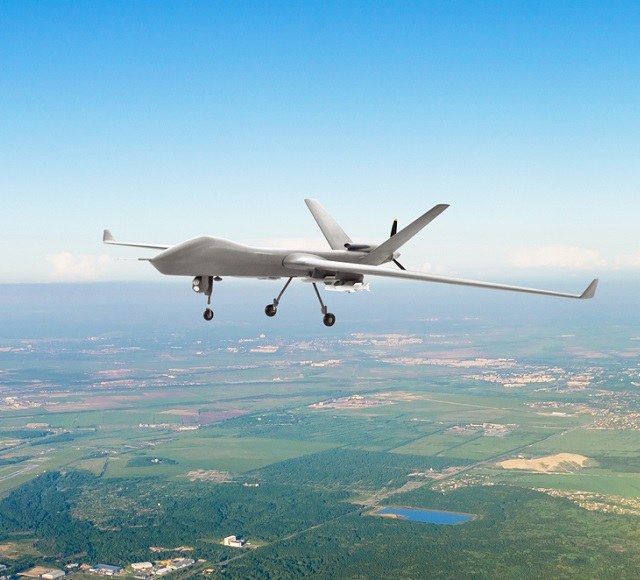 In light of the current global events, most of the human workforce is confined to their homes and business owners are actively seeking new ways to guard their personal and commercial assets 24×7. Using automated drones to guard assets round the clock has become a necessity, and businesses are reaping great value by adopting autonomous drones for security operations.
Enterprises of all sizes need smart and scalable security solutions to protect their physical capital and properties; this calls for the need of reliable hardware and intelligent software.
As technology advances rapidly in the present world, the security industry too is inducting smart technological solutions with the aim of risk identification and mitigation. There has been rapid adoption of drones for security use cases. However, businesses that wish to induct these solutions face the following challenges:
Highly expensive, complex and complicated system setup
Lack of interoperability and agnostic DiaB hardware with leading off-the-shelf drones
Lack of reliable and scalable automation softwares
Increased time to market, turnaround and lead time
Lack of software support to automate off-the-shelf drones like DJI Mavic 2 series.
Expensive DiaB hardware and time-consuming set ups hampering overall operational efficiency.
Lack of automation in existing drone operation management systems.
To help business users overcome the above-mentioned challenges with regards to drone automation, FlytBase and Hextronics have partnered together recently, with a focus on aerial security and surveillance.
FlytBase, Inc., provides drone agnostic software solutions to automate and scale drone operations. It provides a platform to develop, validate and deploy  an intelligent fleet of drones which is  connected to cloud-based business applications. FlytBase has compatibility with major drone hardware platforms (eg. DJI, Ardupilot, PX4) and comes with SDKs, simulators and APIs for reliable testing and seamless integration and offers flexibility for custom drone applications
FlytBase's cloud-connected offering, FlytNow, enables drone service providers, system integrators, and enterprises to build intelligent drone applications over scalable cloud infrastructure using off the shelf drones from DJI and DiaB hardware to facilitate 24×7 security.
Hextronics LLC, based in Atlanta USA, is an engineering company that builds products that help facilitate autonomous functionality for the growing drone industry. The drone station offers benefits to reduce operations cost, optimize flight-time, increase trip radius, extended battery lifetime.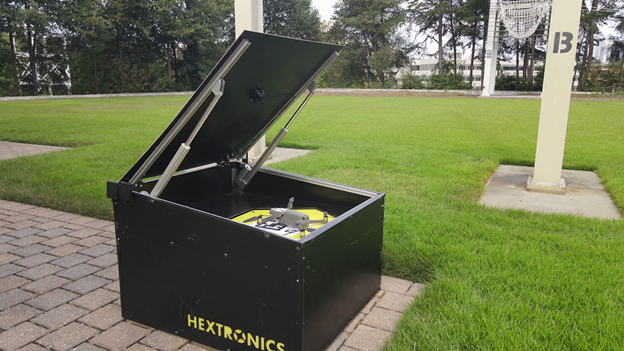 With a focus on Drone-in-a-Box hardware, Hextronics provides unparalleled hardware for automating drones for security and surveillance. By incorporating one of it's kind battery swapping technology, they have successfully eliminated the wait time for the drone battery to be fully charged and helped in maintaining negligible downtime of the drone which is very crucial in aerial security operations
Why the Partnership?
While drone technology has rapidly matured in recent years, it remains a costly affair for businesses to embrace drone automation; apart from this, the aforementioned challenges inhibit the scale of current operations. Compared to conventional security techniques, drones being force multipliers add another dimension to the process of securing assets, making it more streamlined, efficient, and cost effective.
This partnership will enable users with a shortened time to market. The synergy of the two companies will create an ecosystem of trusted, cost effective automated workflows which in turn will help it's users to act on credible information and take tactical decisions from remote areas to mitigate security risks.
To overcome these challenges and usher an environment of smart security solutions, Hextronics is integrating FlytBase's intelligent drone automation software, FlytNow, with their DiaB hardware, to provide a one stop solution for all your security needs.The integrated solution  has the ability to  automate drone takeoff and landing, pre plan flights over assets for maintaining round the clock security.
The proposed benefits of this partnership are as follows:
Hexatronics is an industry leader in battery swapping technology and Diab hardware. Their product eliminates long battery charging durations leading to shorter drone downtime and improved efficiency.
FlytNow as a solution is hardware agnostic that supports off-the-shelf drones from DJI and custom drones based on PX4 and Ardupilot.
Hextronics DiaB hardware is more cost effective and reliable than competitors thus reducing the overall cost of the system.
FlytNow has advanced features like precision landing, drone box automation and pre-scheduling of drone missions for security patrolling and better situational awareness..
Hextronics DiaB boxes are rugged and weather proof ,protecting the drones from harsh environmental conditions and people with malicious intent.