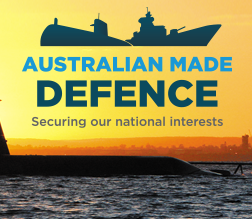 On the 17th of November, the defence industry is united in Adelaide for the Submarine Science, Technology and Engineering Conference while keenly anticipating the Minister for Defence's first address to the defence and shipbuilding industries.
Australian Made Defence campaign national spokesperson, Chris Burns said this event was key to the industry as it is the last time the three contenders for the Competitive Evaluation Process for the Future Submarines Project will address the sector before bids are submitted at the end of the month.
"It is only fitting industry gets to hear from the Minister for Defence during such an important milestone," said Mr Burns.
"The future of the defence industry is under a lot of uncertainty: the Defence White Paper is long overdue, industry has not been advised of when it will be released, and it is still unclear how industry will rectify the current Valley of Death in the sector without direction from government.
"Defence is a key issue for the Australian community but unfortunately the portfolio has had to endure decision paralysis with three Ministers in the last two years.
"Industry has supported the renewed leadership in Minister Marise Payne in her new role, but we have been waiting for clarification for some time regarding the future of Australia's Defence projects.
"Industry hopes the new leadership will bring with it a new outlook on how Australia deals with Defence acquisition, but so far there has been little indication of change.
"For years governments have failed to lead the nation towards a continuous shipbuilding strategy, as a result the Australian shipbuilding industry is being forced to lay off workers in the absence of a clear direction, depleting our skilled workforce.
"Industry is in an impossible situation, unable to justify sustaining their workforce while we wait without any clear indication for the future. This is not just about the defence businesses; it's about national security, sovereignty, skills and Australian taxpayer dollars.
"Australia has the skilled workforce and capacity to build ships and submarines locally to secure prosperity for Australians. We cannot afford to lose the capacity to have locally built and sustained fleets into the future.
"We hope the event and the Minister's address will form the basis of a strong commitment to the Australian defence industry into the future," said Mr Burns.