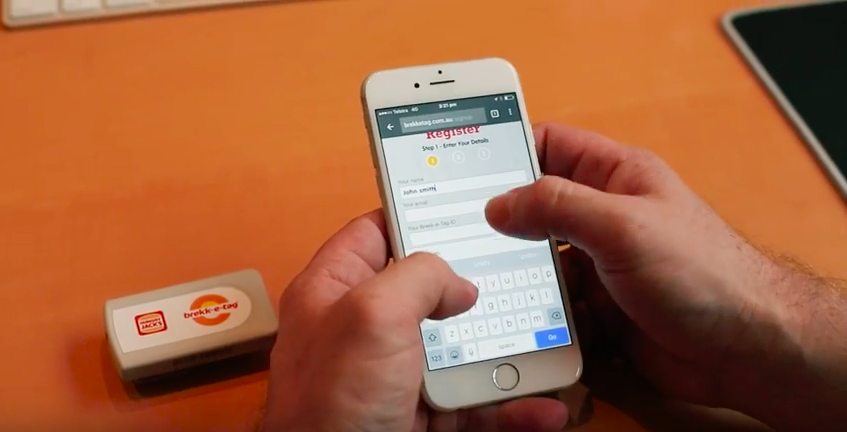 Hungry Jack's has introduced a QSR-first aimed at changing the breakfast drive-thru experience in Australia with the introduction of its Brekk-E-Tag technology at its Tumbi Umbi, NSW restaurant.
Following consumer feedback that many morning customers are habitual orderers, Hungry Jack's came up with the quirky Brekk-E-Tag tech initiative to make mornings easier and will be trialling Brekk-E-Tag for a limited time only at Hungry Jack's Tumbi Umbi in Central NSW.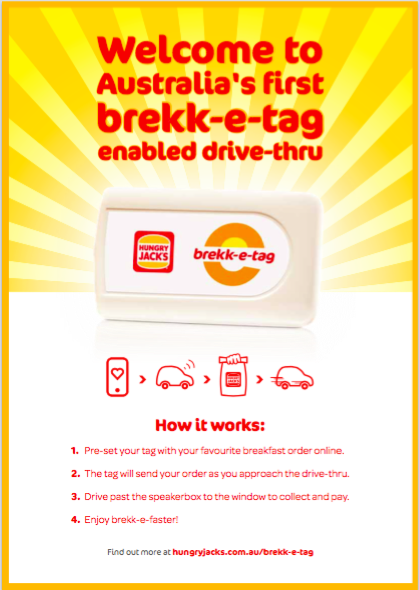 The Hungry Jack's Brekk-E-Tag technology allows customers to save their regular breakfast order onto the E-Tag system and when approaching the drive-thru proceed straight past the speakerbox. Once the order has been recognised, the Brekk-E-Tag attached to the car windscreen, "beeps" to let the driver know their order has been detected, then the customer simply drives through to pay and collect.
The clever Brekk-E-Tag initiative is aimed at customers that aren't particularly a morning person or those looking for that extra convenience in their busy morning. Brekk-E-Tag is designed to appeal to mums on the morning school run, tradies leaving for work in the early hours of the morning and regular Hungry Jack's breakfast consumers on the go.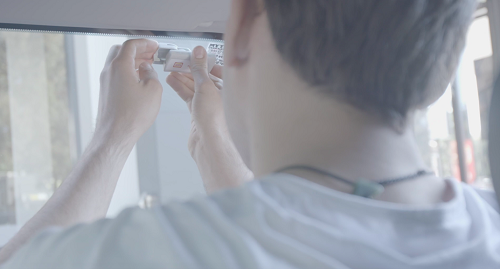 The Brekk-E-Tag technology is simple and easy to use, all customers have to do is use their phone or mobile device to register their details and their favourite breakfast order on the Brekk-E-Tag page (www.brekk-e-tag.com.au), attach the Brekk-E-Tag to the car windscreen and then head to Hungry Jack's Tumbi Umbi restaurant to experience the technology.
Hungry Jack's Chief Marketing Officer, Scott Baird, said the Brekk-E-Tag technology will streamline the morning drive-thru experience for a lot of busy Hungry Jack's customers by offering a innovative service.
"Customers go through the Hungry Jack's drive-thru not only for the great-tasting food but also because it is convenient and quick, we're always striving for ways to make that experience even better.
"We can't wait to see how our customers respond to the technology and hopefully soon we'll see it in more of our restaurants across the country," Mr Baird said.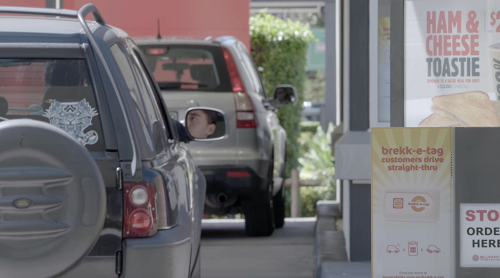 Similar to the tags used to collect tolls, Brekk-E-Tag works off Radio Frequency Identification (RFID) based technology. The RFID receivers set up in Hungry Jack's Tumbi Umbi's Drive Thru have a range of five to eight metres and have been positioned so that they can read a customers device before they reach the regular speaker box.
The campaign has been launched with V8 Supercar driver David Reynolds who was the first to test out the new innovation. View the video or find out more at: www.hungryjacks.com.au/brekk-e-tag
NB: Brekk-E-Tag has been setup on a unique radio frequency and will not interact with any other E-Tag systems already on the road. The Brekk-E-Tag system is only available at Tumbi Umbi for a short time and not available at any other stores.
About Hungry Jack's:
Hungry Jack's has been the home of the famous flame-grilled Whopper in Australia for more than 45 years. Australians enjoy visiting Hungry Jack's network of more than 400 restaurants nationwide for great tasting, fresh food. From delicious flame grilled 100% Aussie beef burgers with no added hormones to the succulent chicken menu items, brekky wraps and the great value Stunner meal, Hungry Jack's is the destination for classic favourites and innovative new flavours. To learn more about Hungry Jack's, please visit www.hungryjacks.com.au or follow us on Facebook and Twitter.