News facts:
Fujitsu is working with KIA Motors Australia to develop an artificial intelligence-enabled digital police car of the future.
Fujitsu is developing a software-based integration platform that links disparate technologies, allows the removal of unnecessary costly technology, and reduces the cost of installation and de-installation, while providing a safer cabin for law enforcement officers.
Using KIA's standard Stinger model, the enhanced vehicle ecosystem integrates individual components, simplifying the installation and removal of vehicle equipment and bringing greater agility and efficiency to the police force.
Fujitsu has announced the development of a prototype of an artificial intelligence-enabled digital police car of the future. In collaboration with an ecosystem of partners, and working closely with KIA Motors Australia, Fujitsu is able to remove surplus equipment, software, hardware, and cabling from police highway patrol vehicles by integrating the required information systems and response controls into KIA's standard Stinger model. Fujitsu created a software-based platform that links disparate technologies, reducing the cost of installation and de-installation, while providing a cleaner and safer cabin for law enforcement officers.
Together, Fujitsu and KIA used the manufacturer's standard Stinger model to develop a turnkey solution. The car's existing Infotainment screen, which is shared across the Kia range, is programmed to present information and execute emergency response controls. The benefits of this set-up include:
Elimination of issues associated with airbag deployment and the blocking of vehicle controls and air conditioning vents due to the need for built-in personal computers and screens.
Greater comfort for officers who are in the car for most of their shift.
Greater police equipment security and officer safety, since currently officers are often required to operate multiple devices while driving and engaging with potential offenders at high speeds.
Ian Hamer, Principal Architect, Fujitsu Australia, said: "To build each highway patrol police car now requires multiple tenders from numerous individual suppliers for each piece of equipment, from the car itself to Mobile Data Terminal (MDT), number plate recognition technology, In-Car-Video (ICV) and radar. Fujitsu's enhanced vehicle ecosystem integrates these and other individual components, simplifying the installation and removal of vehicle equipment and bringing greater agility and efficiency to the police force."
Chris Forbes, National Fleet Manager, KIA comments, "KIA already supplies the standard Stinger model to the Queensland, Northern Territory and Western Australian police forces for use as highway patrol vehicles. We identified the amount of systems redundancy within the current vehicle fit-out and are excited to work with Fujitsu to push for a higher degree of integration of law enforcement systems within the Stinger. By reducing the amount of physical technology within the car, the vehicle can be modified or serviced by any KIA dealer in Australia, reducing the time previously spent servicing vehicles at specialised facilities."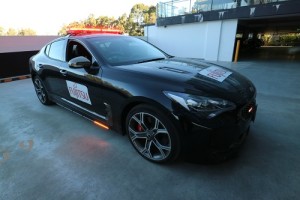 The Stinger's core performance and safety characteristics have played a key part in the decision by state police forces to integrate the vehicle into their road policing divisions. The Stinger, in standard form, is capable of 0-100 km/h in 4.9 seconds and has a five-star ANCAP safety rating backed by a seven year warranty.
Reducing the weight of copper cabling throughout the car reduces weight and power draw on the vehicle, resulting in greater fuel efficiency. Furthermore, Fujitsu's solution will remove up to seven existing system logins by embedding biometrics into the gearstick, a natural position for the palm when starting a car.
Fujitsu's biometric authentication technology PalmSecure secures sensitive information, while three single-feature action buttons on the front of the gearstick control emergency lights and sirens, enhancing the safety of officers who are no longer required to take their eyes off the road to operate a complex control pad.
Ian Hamer continues: "Fujitsu's goal was to develop a car that looked like a regular vehicle rather than a highly modified police car. By integrating systems into the inbuilt systems in the vehicle, we were able to remove excess bracketry inside the cabin. Working closely with emergency warning systems specialist Whelen Engineering, the team designed a new modular configuration of the lightbar that will result in a less invasive installation using one umbilical cord instead of nine separate cables. As a result, cameras placed in the lightbar are at the optimum height to record video evidence. This umbilical cord will then be mated to the KIA's core wiring loom for simplicity of installation."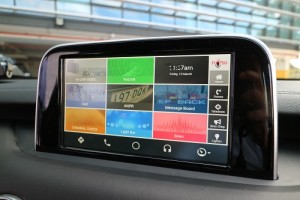 Fujitsu will also integrate the radar into the car's existing head-up display, removing the dash mounted control box and irritating doppler tone produced when using the radar. In phase two of this development, artificial intelligence (AI) capabilities will identify a target car's manufacturer and colour using onboard cameras, and these will also be able to recognise stolen cars in busy carparks and traffic. The technology will be able to detect if an offender has drawn a weapon and automatically send duress signals.
Fujitsu and KIA have developed a concept car to demonstrate the approach to police forces in Australia. The initial project was funded by Fujitsu's Incubator Fund, which is utilised for investment in development of innovative technology solutions with a view to future commercialisation.
Mike Foster, Chief Executive Officer, Fujitsu Australia and New Zealand, said, "This project demonstrates the true value of co-creation between organisations to achieve a business outcome that benefits society.
Fujitsu's innovative technology solutions, including AI and video analytics technology, coupled with KIA's cutting edge vehicle platform has the potential to transform emergency services vehicles. We believe this approach has a much wider application than just use within the police force. Fujitsu is working to develop an enhanced vehicle ecosystem by extending the technology to meet multiple vehicle needs including ambulance, fire and rescue services, security vehicles, and taxis."
Online resources
About Fujitsu
Fujitsu is the leading Japanese information and communication technology (ICT) company, offering a full range of technology products, solutions, and services. Approximately 140,000 Fujitsu people support customers in more than 100 countries. We use our experience and the power of ICT to shape the future of society with our customers. Fujitsu Limited (TSE: 6702) reported consolidated revenues of 4.1 trillion yen (US $39 billion) for the fiscal year ended March 31, 2018. For more information, please see http://www.fujitsu.com.
About Fujitsu Australia and New Zealand
Fujitsu Australia and New Zealand is a leading service provider of business, information technology and communications solutions. We partner with our customers to consult, design, build, operate and support business solutions. From strategic consulting to application and infrastructure solutions and services, Fujitsu Australia and New Zealand have earned a reputation as the single supplier of choice for leading corporate and government organisations. Fujitsu Australia Limited and Fujitsu New Zealand Limited are wholly owned subsidiaries of Fujitsu Limited (TSE: 6702). See www.fujitsu.com/au.