Commercial UAV Asia Show and IOT Conference, Singapore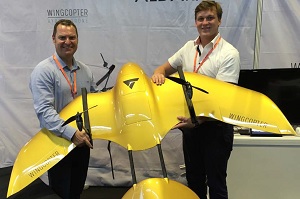 Despite a very busy and somewhat problematic registration process, though taken as a sign of success, once inside and underway this was a great event. Well at­tended from across Asia and show casing drone technologies from around the world, the attendees represented all facets of industry, academia, busi­ness, technology and large enterprise. Having first written about the emergence of drones entering into the civil sector in 2009, it is obvious now that drone technology has become main stream and is now in full flight. Literally!
It remains only government regulation restricting much wider commercial use, and with companies like UniFly (www.unifly.com) these regulations can be easily referred to and evaluated. Others have much more ambitious plans, like Daka Technolo­gies which reports to be progressing fast with the concept of installing drone delivery pods in all high rise apartments. To help alleviate any safety concerns, ParaZero drone safety systems, an Israeli company used the show to introduce an innovative pyrotechnic parachute and autonomous triggering technology.
Fundamentally, drones continue to do the 3'D's – the dirty, dull and dangerous work, but the technol­ogy has expanded into 'dronetainmant' (unless told otherwise I'm coining that phrase) with drones being used for stage show productions and drone racing is also increasingly popular. Infinium Waders have developed performance drones, specially engineered for the entertainment industry. With in-house propri­etary algorithms, complex swarming of UAVs indoors and outdoors is possible for live and novel entertain­ment showcases…Click HERE to read full article and more images.