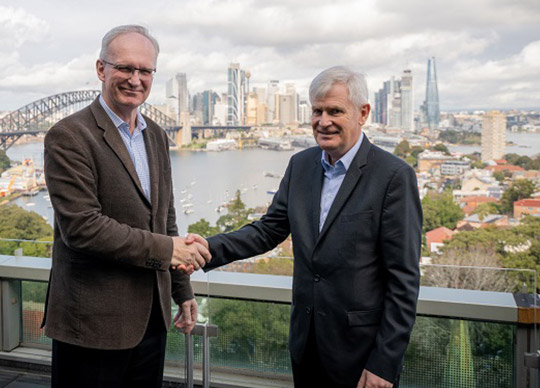 Exail has announced plans to create more than 100 highly skilled jobs in Australia should the company secure the Royal Australian Navy's SEA 1905 contract.
The number of jobs will increase over time resulting from knowledge transfer and the commencement of production in Australia of key components including mechanical sub-assemblies, electronic boards and Unmanned Surface Vehicles (USVs), as well undertaking research and development for "evergreening" purposes.
These new roles will span a wide variety of disciplines, with the majority being professional roles in artificial intelligence (AI), cybersecurity, software engineering, research and development, logistics and supply chain management, naval robotics, and project management.
"Securing the SEA 1905 contract would allow us to not only bring state-of-the-art technologies to Australia but also to create genuine high-value, long-term employment opportunities in the country," said Exail SEA 1905 Capture Lead Daniel Scourzic.
"We're talking about jobs in major high-tech areas from AI and cybersecurity to software for mission management, leveraging our very successful UMISOFTTM software suite as well as robotics. Our aim is to make Australia a hub of cutting-edge naval robotics technologies."
Exail CEO Dominique Giannoni said the company was already extensively collaborating with leading Australian companies including UGL, Acacia Systems, Solutions from Silicon and Mission Systems to deliver SEA 1905.
"We specifically selected our Australian partners to ensure we could deliver value-for-money to the Commonwealth by working with the best qualified partners to deliver the most effective and rapid solution to Australia. Our partnerships aim to bolster Australia's sovereign capabilities, ensuring the country not only benefits from the transfer of advanced technologies but also from the creation of localised expertise and know-how," he said.
Exail and its partners plan to establish new facilities across various strategic locations. The main Australian facility will be a Centre of Excellence planned in the Port Kembla area, near Jervis Bay which will incorporate, secure storage, training and advanced maintenance facilities where deeper-level maintenance will take place; a second location in the Botany Bay area will enable easy access for training activities.
"There will be highly qualified new jobs created for the dedicated training and integration centres, and we're planning hi-tech workshops and warehousing facilities. These will enable hands-on training, which is essential for knowledge transfer to the roles we are creating in Australia," said Scourzic.
Exail's third initial location in Sydney will be home to the project management and system engineering team with 20 new jobs in the short term. It will be co-located with UGL in their North Sydney headquarters, close to HMAS Waterhen, enabling Exail and its Australian partners to work with the Navy as an integrated team for project management and to expedite the transfer of technology.
Across the three locations, more than 10,000 square metres of facilities are planned to house the Batch 1 delivery of Exail's mine countermeasure system. Exail's facilities are expected to expand further to the west coast to support a fully deployed national MCM capability.
"We don't just offer jobs; we transfer high-tech world leading autonomous MCM capabilities," said Exail CEO Dominique Giannoni. "We are delivering genuine new capability to Australia with our operational systems that have been proven to work, as demonstrated by our recent successful sea tests and our ongoing work in Belgium."