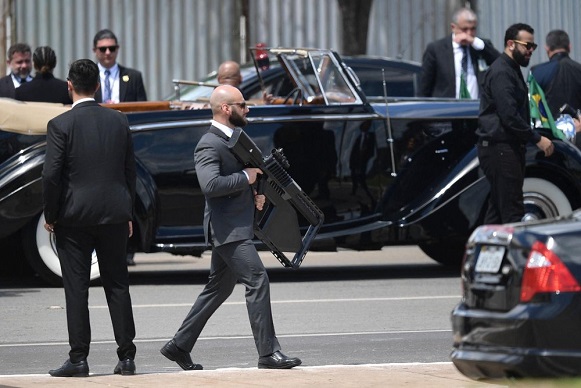 By Staff Writer.
ASX listed DroneShield had its hardware deployed by security services during the January 1 inauguration ceremony for Brazilian president Luiz Inácio Lula da Silva. Security agents were spotted armed with the DroneGun Tactical drone neutralisation device while walking alongside the motorcade.
The intimidating looking piece of hardware, 56" in length, resembles a large handheld machine gun and deploys non-kinetic jamming technology to disrupt the communication link between the drone and its operator. While the DroneGun looks like it could easily blow a drone out of the sky, it instead commandeers the drone and brings it down to land for further investigation.
DroneShield says agents used their device to engage with four "suspicious" drones heading towards the inauguration ceremony. With a clear line of sight, the DroneGun has an effective range of two kilometres.
While DroneShield is still awaiting approval for use in the United States from the Federal Communication Commission, the company received approval from its Brazilian equivalent in mid-2021. DroneShield CEO Oleg Vornik doesn't specify exactly how many but says the company has sold several DroneGun units in the country since then.
"Brazil is a key South American market for DroneShield, and we are pleased to see deployment of our systems in the country at the highest level, which is expected to flow down to further systems being utilised in Brazil, as counter-UAS (unmanned aerial system) requirements continue to rapidly grow," he said.
In the same week as the inauguration ceremony, DroneShield also confirmed that it had completed its contractual obligations to the Australian Defence Force following its involvement in a program focusing on artificial intelligence in multi-domain applications.
The program contract, signed in November 2021, was worth AUD800,000 to DroneShield, which the company collected via a series of milestone progress payments.
"The program has resulted in significant improvements to DroneShield's optical/thermal AI DroneOptIDTM engine, as well as development of a ground-breaking multi-Sensor Fusion Artificial Intelligence (SFAI) engine that is expected to be a core part of DroneShield's Command-andControl system DroneSentry-C2TM in 2023," said DroneShield in a January 5 ASX filing.
"It is clear that the multi-sensor fusion system created by DroneShield is truly unique on a global scale," added DroneShield's chief technology officer Angus Bean. "The algorithms and architecture being used are producing excellent user outcomes, without the 'server-farm' levels of compute-power that similar systems require. The SFAI system represents a significant step-change in our C2 capability."
With customers worldwide, DroneShield has rapidly grown since its founding in 2014 and now specialises in C-UAS, electronic warfare, RF sensing, artificial intelligence and machine learning, sensor fusion, rapid prototyping and MIL-SPEC manufacturing. The company now employs around 60 people, primarily in Australia and the United States, and exports its Australian-made bespoke and off-the-shelf capabilities to governments, military, law enforcement, and commercial sectors.
After posting AUD10.6 million in revenue and AUD14.7 million in cash receipts in calendar 2021, Oleg Vornik says DroneShield is firmly on track to produce record revenue and cash receipts for calendar 2022.
Meanwhile, the DroneGun captured plenty of camera attention at the inauguration ceremony, with images of the security agents touting the forbidding-looking device carried by media outlets worldwide. Vornik says he expects the "high-profile deployment" will drum up plenty of further interest in DroneShield.
Image: A security agent walks with DroneShield's DroneGun Tactical™ next to the presidential Rolls-Royce that will be used by President-elect Luiz Inácio Lula da Silva at his inauguration ceremony in Brasilia, on January 1, 2023 (Photo Credit: DroneShield, by CARL DE SOUZA / AFP).