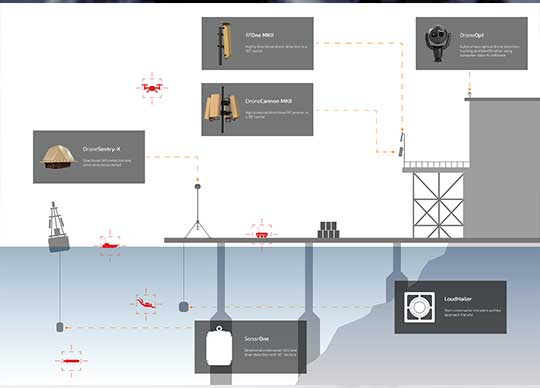 DroneShield has announced a material capability upgrade to its multi-domain DroneSentryTM counterdrone / counter-UxS threat awareness and response system, via addition of SonarOneTM for directional real time reporting of underwater threats.
Designed for deployment around naval vessels, harbours, and critical infrastructure, SonarOneTM is installed and monitored via the DroneSentry-C2TM, with no specialist sonar training required.
Oleg Vornik, DroneShield's CEO, commented, "With the inclusion of SonarOne, the DroneSentry system provides a comprehensive all-domain awareness and protection system, including Unmanned Aerial Vehicles (UAVs), Unmanned Ground Vehicles (UGVs), Unmanned Water Surface Vehicles (USVs), Unmanned Underwater Vehicles (UUV) and divers. As the original counter-UAS market pioneer which set the industry standards since its inception, we are pleased to continue leading the market by offering this breakthrough unique capability to our customers globally."
SonarOneTM can protect large sites with few installation points. With its directional capability and simultaneous tracking of multiple targets, SonarOneTM provides complete awareness of multi-directional underwater robotic and manned swarm attacks.