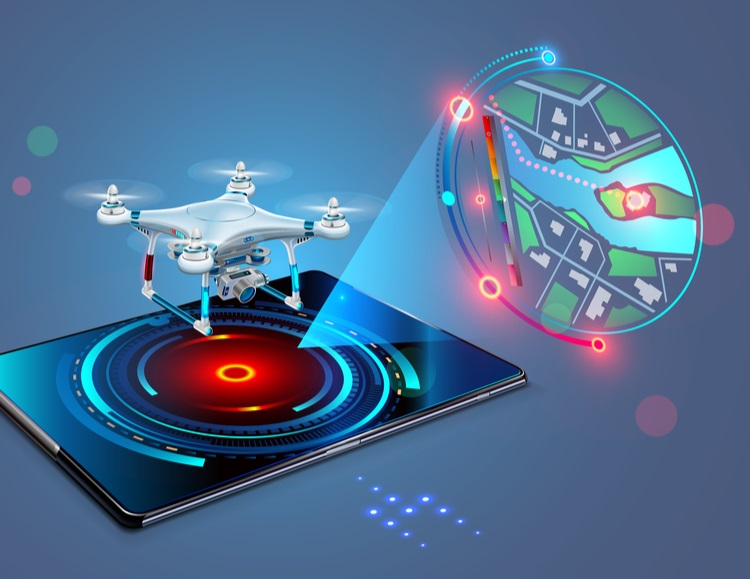 The market for drone sensors will be greater than $2.9Bn by 2031, according to a IDTechEx forecast. Even with the impact of COVID-19, the drone market has continued to see growth throughout 2019 and 2020. This is due to the vast range of use cases for which drones can be used and their continued ability to collect detailed data and mapping of areas that are difficult to cover by humans.
IDTechEx compiled information from over 120 hardware and software companies to identify the drone industry's key trends. The major players of the drone industry are compared within different industry areas, such as software, hardware, and analytics.
The capabilities of sensors have grown over the past decade, and as a result, drones can be used in a wide range of use applications such as precision agriculture, infrastructure management, and mapping of remote areas, as well as delivery of medicines or blood to remote communities.
Sensors on drones include any of the following devices:
Inertial Measurement Unit
Mapping and Location sensors (GPS etc.)
Image Sensors (Infrared, Thermal, Multispectral, 3D)
Pressure Sensors (Differential)
Altimeter sensors (Barometric Pressure Sensors)
This list is by no means exhaustive but covers the broad range of sensors on drones and small UAV technologies at the time of writing. These sensors can then be used together to provide different operational capabilities. For example, collision avoidance systems typically use a combination of different sensors.
One type of camera which has been very useful for the broader adoption of drone technologies is the multispectral camera. Multispectral imaging is a method of imaging where the user obtains images corresponding to a number of different spectral channels, covering parts of the IR and UV region. Multispectral imaging is used for a variety of reasons, including in farming to increase efficiency and yields. Using drones for farming applications has many benefits, not only because the farm location is away from built-up areas; it typically permits flying over longer distances as the operator can see the drone. Other applications include oil and gas, atmospheric studies, ecology, etc. For example, DJI, one of the major players in the drone market, offers the P4 multispectral drone, which has an integrated multispectral imaging system built for agriculture missions, environmental monitoring, etc.
Multispectral cameras are particularly useful for precision farming. They allow the user to identify poor soil or crop, and fix the problem before more crop is damaged. Within agriculture, the use of unmanned aerial technology is not just limited to drones. Indeed, unmanned remote-controlled helicopters have already been spraying rice fields in Japan since the early 1990s. This is a maturing technology/sector with overall sales in Japan having plateaued. This market may, however, benefit from a new injection of life as suppliers diversify into new territories. By 2041, agriculture alone will be over $7.5Bn, according to IDTechEx.