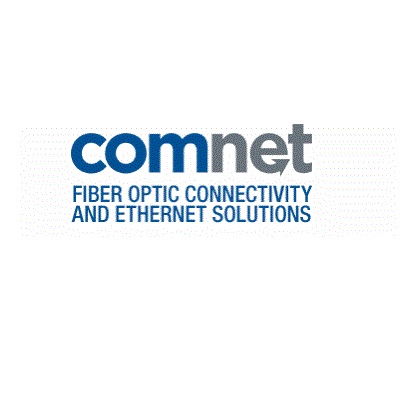 Exclusive Demux feature allows for port isolation, replicating two media converters over one fiber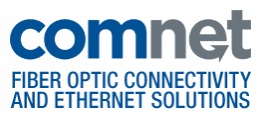 ComNet is introducing a three port media converter, the CNMC2+1SFP/M. This media converter features two TX input ports and a single SFP port for the users' choice of fiber type, distance, connector type and speed.  The unit features port isolation, allowing the unit to act as two independent media converters while using a single optical fiber for transmission.
The key benefit to users of the CNMC2+1SFP/M is its ease of use. The ComNet exclusive Mux feature prevents network video flooding of multicast traffic with DIP switch selection of the fiber port as a dedicated uplink path. A unique Link Fault Pass-Through feature detects if either of the copper ports are down and triggers the optical port to switch states to indicate the failure to the monitoring location.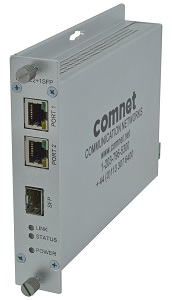 The CNMC2+1SFP/M is a cost-effective and easy way to add IP Video to a network and is designed for use in harsh environmental applications.
According to Steve Clarke, ComNet Europe Managing Director, "ComNet has always focused on taking the complexity out of IP video networks. Now being able to design the network and use one media converter instead of two, to accomplish the same task as two is the definition of a cost-effective solution. The ComNet CNMC2+1SFP/M is another example of ComNet understanding the needs of the market."
"Our extensive line of meida converters has been a huge success. With the introduction of the CNMC2+1SFP/M, we continue to round out our media converter offerings and solve a multitude of challenges our customers face," said Skip Haight, ComNet VP of Marketing.  "ComNet now offers over 300 different media converters, we truly focus on the needs of the market and respond to the challenges our customers face everyday," Haight continued.
ComNet offers an extensive line of fiber optic, copper and wireless video and data transmission equipment that is uniquely designed to meet the needs of the Security and Intelligent Transportation System market. Full product line details are available at www.comnet.net. Call direct 203-796-5300 or email sales@comnet.net for details.