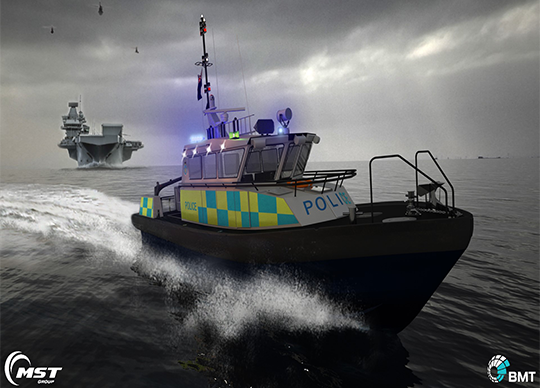 BMT has announced its partnership with Marine Specialised Technology (MST), who have been selected by the UK Ministry of Defence Police (MDP), following a competitive tender process to provide 18 state-of-the-art high-speed patrol vessels.
The BMT design is 15 metres in length and powered by twin inboard diesel propulsion engines driving twin waterjets. Specifically designed to reduce fuel consumption, the vessel will have reduced fuel emissions as well as improved operational efficiency. The new and more environmentally friendly design, which is capable of 30 knots, has been selected by the UK MOD Defence Equipment & Support organisation (DE&S) to be operated by the UK MDP. The advancements in the new craft will see the bridge featuring a fully integrated C4ISR and craft management system, utilising the latest open-architecture structure and state of the art shock mitigation crew seating. These latest developments in craft capability will provide a significant step forward for the Ministry of Defence Police Force.
As part of this public procurement, BMT is also pleased to announce that its team will be providing a comprehensive Integrated Logistics Support (ILS) package. This latest contract for a key government customer is another significant milestone for the consultancy in the market for high performance Patrol-Interdiction Surveillance Vessels, and further builds on its partnership with MST's larger, affordable and exportable HPB-1900 design, of which two are already in build for the Royal Navy Gibraltar Squadron.
The 18 new high speed patrol vessels, capable of operating in the most demanding of conditions, will replace the current police vessels that are being operated at naval bases across the UK.
Martin Bissuel, Business Sector Lead for Government and Security at BMT commented: "We are delighted to be partnering with MST on another prestigious project supplying our UK Defence Forces. This multi-vessel contract is a great reflection of the way our highly-experienced teams can combine expertise to produce an optimal design, as well as a tailored ILS package. The 15m vessels will be valuable in providing the MoD Police Force with an upgrade in capability to persistently patrol in littoral areas for the purpose of force protection of critical national infrastructure, covering high value assets across the United Kingdom and its naval bases."
"The 15m Patrol Boat Design is part of BMT's extensive range of proven in-service patrol boats for the demanding defence and security sectors in the UK and overseas. This additional order from MST underscores our agility in producing carefully tailored designs that suit each individual operator's particular requirements." added Bissuel.
Security and Policing is an important market to BMT, having delivered large scale police modernisation programmes, complex security programmes and supporting an array of key government departments including the Home Office, Ministry of Justice, National Crime Agency, National Counter Terrorism Policing Headquarters and a range of police forces.
Drawing on the proven pedigree from BMT's in-service platforms, and across the global consultancy spectrum and network of offices, the business's breadth of naval expertise and FPB's variants from 9m to 80m long, has offered their UK and international customer base with unrivalled seakeeping, speed, and reliability. With a focus on exportability and adaptability, the BMT designs for commercial, military and export applications are highly configured and engineered solutions to meet different customer requirements for today and the future.