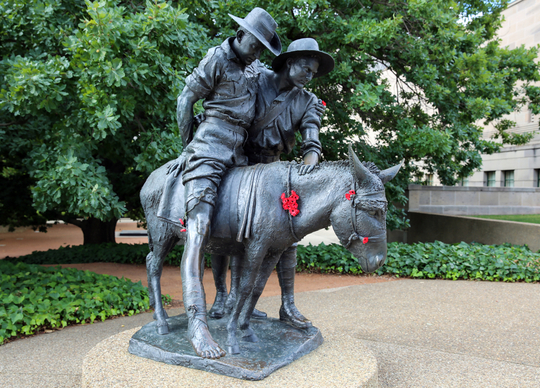 Chironix is developing technology to safely evacuate casualties from a wartime or disaster zone and has consequently secured a US Government contract in the process.
'Project Simpson' pays homage to one of Australia's most significant military figures, ANZAC stretcher bearer Jack Simpson. The project will program robots to perform a similar function as Private Simpson did for the ANZACs in World War One – removing casualties to a field hospital or other safe zone.
The contract for the project is with the US Government's Office of Naval Research (US Navy) and builds on Chironix's previous work in the development of autonomous robotic solutions in complex outdoor environments.
"Beyond saving the lives of those who might otherwise put themselves in harm's way, this technology will empower soldiers and other personnel to unlock their full potential," said Daniel Milford, Founding CEO of Chironix.
"Instead of the time, energy and risk expended on this crucial task to which humans are not ideally designed, they can put their skills and ingenuity to use in ways that provide more value. That's the ultimate goal of autonomous robotics – not to replace human capabilities, but to support and work alongside us in the endeavour to achieve greater things. The safe transport of field casualties and the delivery of critical supplies is a crucial element of any conflict situation," said Mr Milford.
"The robots are able to deliver supplies from a base, offload those supplies, and then transport either casualties or spent stores back to base, operating in a kind of loop," he said. "Hence, we have developed a solution which autonomously moves supplies from A to B, and returns casualties from B to A".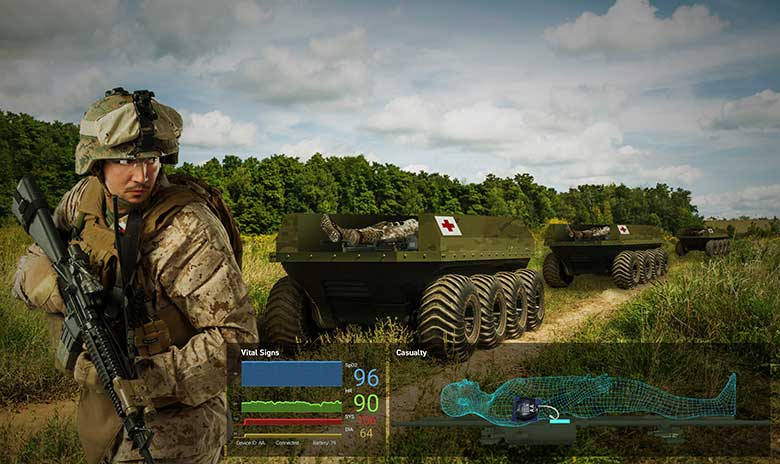 "The problem solved by Project Simpson – and the automated technology – is the ability to operate these autonomous logistics loops in challenging outdoor environments which will increase the speed and number of people which can receive emergency medical care, while at the same time increase the available supplies to the people that need them."
"Our technology allows these autonomous vehicles to operate this loop with very low levels of human input, where they can traverse unmapped areas like forest, bush or mountainous environments, to deliver crucial supplies and evacuate personnel. We're building the brain of the robot so that it can successfully navigate its way from A to B and then B to A through traversable terrain, avoiding obstacles while making decisions about how and where it will travel."
Timothy Bentley, Force Health Protection Deputy with the Office of Naval Research, US Navy welcomed the contract with Chironix. "Project Simpson will develop significant capability in the automation of casualty care and increase the chances of saving more American lives in the process. We look forward to strengthening our relationship with Chironix as we bring this technology into reality over the course of the project." said Dr Bentley. "We are looking forward to seeing the outcomes of this project as we work to optimise the patient care process and enhance the automation of key logistics capabilities to support the efforts of the US Marines," he said.
The technology also has many non-military uses, including the transport of supplies to and from disaster sites, supporting workers in mine sites or outdoor environments, and even forming key logistics delivery processes in regional or remote areas around the world. Of particular areas of use are those where supplies need to be moved where there is no readily available infrastructure like roads.
Problems Project Simpson is Aiming to Solve Include:
Avoiding the risk of more casualties: Traditionally, evacuating casualties would require a minimum of four team members to operate a stretcher, putting themselves and their unit at further risk. An autonomous vehicle evacuation requires fewer human personnel, which in turn means less chance of anyone else coming to harm.
Evacuating quickly in outdoor terrain over longer distances: Autonomous vehicles can travel significantly further and faster than humans when rescuing a casualty. That means the injured get the help they need more quickly, which is critical to survival and recovery.
A safer journey for the casualty themselves: The Project Simpson technology makes for a smoother, less disturbed journey than a stretcher because the vehicle's suspension keeps the injured person stable. This means a much smaller risk of aggravating any existing injuries (such as blood haemorrhages, which when dislodged by impact can create harmful blood clots).
As part of that last element, Chironix is designing a Litter Interface for Transport Stabilisation (LIFTS) system, which acts as a mechanically operated 'stretcher' that stabilises the patient even while travelling across tough, uneven terrain – reducing the risk of further injury. This stabilised 'stretcher' works in combination with the autonomous 'brain' of the vehicle, providing the best ride quality for the patient to enhance their chances of a positive medical outcome.
Phase One of Project Simpson was completed in 2019, and this next phase is being delivered in the wake of successful delivery of that project.
Mr Milford said working on a logistics project that had the potential to rescue people in life-threatening situations held special meaning for him personally.
"When you think about what Jack Simpson and what he achieved with Duffy, who was one of his donkeys – to be doing work that is aimed at the same goal is a special thing to be a part of. The name of this project is inspired by that famous legacy, which, as someone who has had a long affiliation with the Australian Defence Force, is personally significant for me."