Rohan Stocker, General Manager of Melbourne, Australia-based manufacturing and engineering company, Marand, accepted the award for 'best supplier relationship' from Cliff Robson, F-35 Senior Vice-President, BAE Systems at the Farnborough Air Show.  The award recognises the valuable contribution made by international partner company Marand, responsible for building 722 vertical tail sets for BAE Systems and the F-35 Joint Strike Fighter program.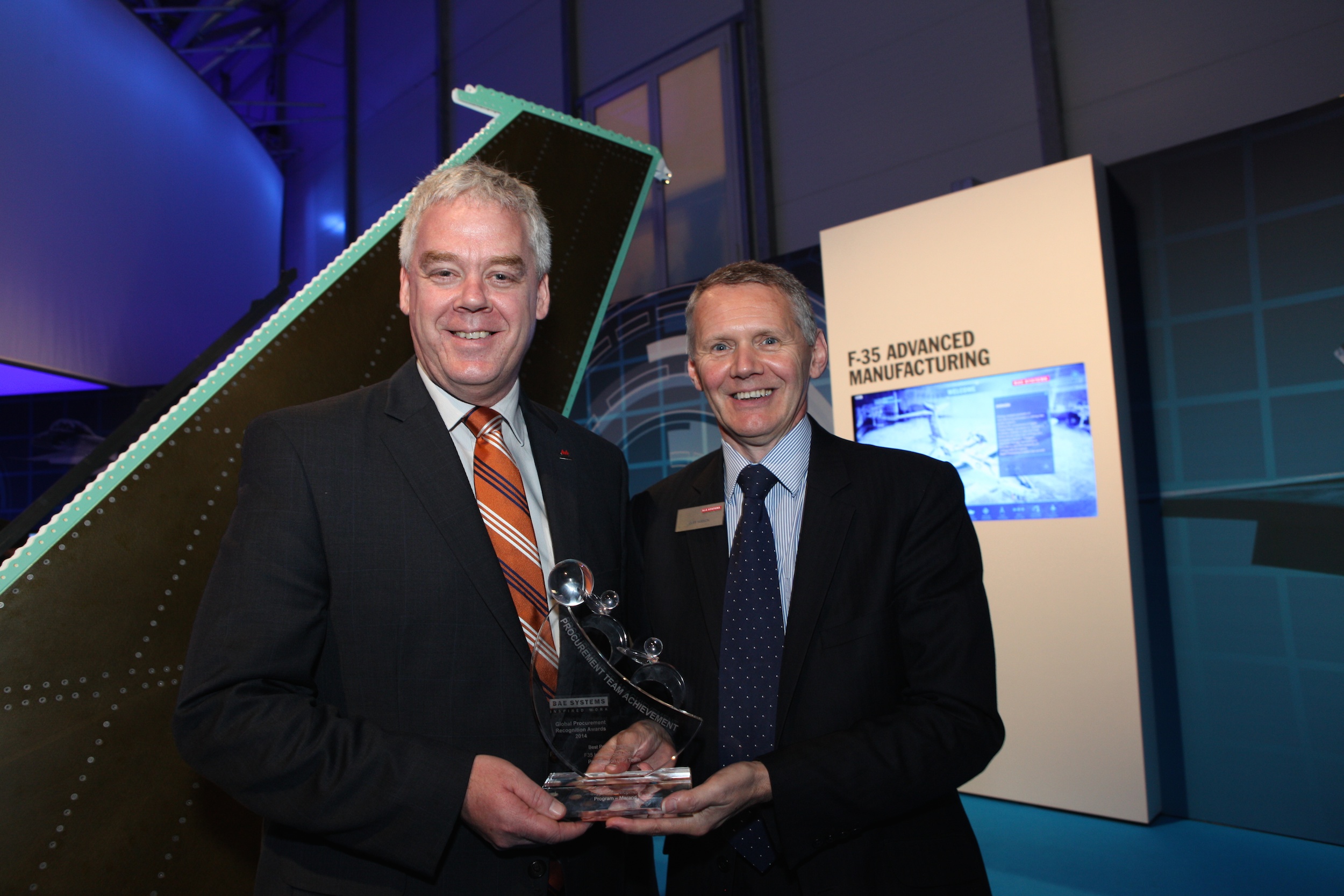 Above: Marand's General Manager, Rohan Stocker accepted the award at the Farnborough Airshow in front of the first F-35 vertical tail Marand produced at their facility in Melbourne, Australia.  Rohan Stocker (left) is handed the award by Cliff Robson of BAE Systems (right).
Marand designs and manufactures complex and innovative equipment and know how to the aerospace, defence, automotive, rail and renewable energy industries. Our customer base includes companies such as Lockheed Martin, BAE Systems, Boeing, BHP Billiton and Rio Tinto.
Our expertise in applying innovative manufacturing and production techniques, with precision where needed, delivers substantial financial benefits to our customers. This has resulted in Marand being the largest Australian supplier on the F-35 Lightning II Joint Strike Fighter programme. In addition to the F-35 Vertical Tails programme, Marand is the global sole source of the F-35 engine removal and installation trailer.
At BAE Systems, we serve the needs of our customers by delivering a wide range of advanced defence, aerospace and security solutions that provide a performance edge.  We work together with local partners to develop, engineer, manufacture and support the innovations that increase defence sovereignty, sustain economies and safeguard commercial interests.  With some 84,600 employees in six continents, we are committed to creating solutions that protect and strengthen nations, commerce, communities and people.