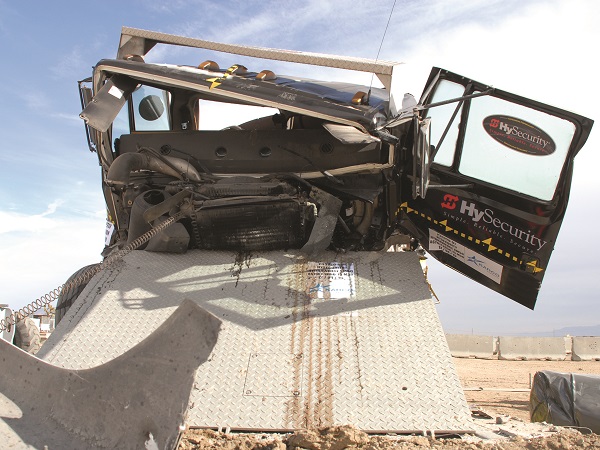 HySecurity's new anti-terrorist vehicle barrier HydraWedge SM50, won its New Product Showcase category at the leading security tradeshow, ISC-West, on April 5th.
HydraWedge SM50 won the most innovative award in the Outdoor Perimeter Protection product category. That category includes perimeter barriers, microwave perimeter devices, seismic sensors and on-the-fence detection systems.
"HydraWedge is a huge departure from traditional wedge barriers," says Richard Woltjer, HySecurity VP of Marketing. "Every wedge barrier passes a crash test certifying that it successfully stops a 15,000 lb. truck racing at 50 mph. HydraWedge
SM50 not only stops a truck with no penetration, it communicates potential and actual perimeter breach conditions to security responders in real time, giving them the immediate intelligence necessary to prevent and mitigate a perimeter breach. That groundbreaking feature is what earned HydraWedge SM50 the top Outside Perimeter Protection innovation award."
See the crash test at: http://bit.ly/HydraWedge_2_Crash_Tests.
The Security Industry Association (SIA – http://www.siaonline.org/ ) sponsors the annual New Product Showcase at its International Security Conference tradeshow, hosted in Las Vegas this month (April 5th). The show draws 30,000 security professionals, 1000 exhibitors and 100 entries into the New Product Showcase competition. Winning products are recognized as the leading security innovations introduced in the previous 12 months.
HydraWedge is the fourth vehicle barrier in HySecurity's crash product line. It joins crash barrier arms StrongArm M30 and StrongArm M50, and anti-vehicle theft WedgeSmart DC. All these products benefit from HySecurity's perimeter security intelligence real-time reporting.
All HySecurity gate operators detect and send security alerts when a suspicious vehicle parks for more than 5 minutes outside an access control point, when a safety barrier arm ahead of the wedge is hit by a vehicle, when a security slide gate in front of the wedge is forcibly opened, when the wedge is triggered to secure the lane and doesn't respond, and dozens more security and operational conditions.
Additionally, HydraWedge SM50 passed the ASTM F2656 M50 crash test with negative penetration. It achieved a minus 2-meter penetration, meaning that the explosive payload did not come closer than 2 meters to the reference plane at any time of the test.
Other standout HydraWedge SM50 specifications include:
Fast normal actuation: maximum 3 seconds to close lane
Fast Emergency Fast Operate (EFO): maximum 1 second
Minimum six accumulator backup cycles after AC power loss (non UPS model)
Fast Throughput: up to 300 vehicles per hour, 12.5 seconds per vehicle
12-inch shallow mount. Nominal underground utility conflict
Passed dom

estic and international crash tests (ASTM 2656-15 M50 P1, IWA14-1, PAS 68)

Easy, 3-wire connection between multiple sequenced HySecurity gates
Minimal concrete/rebar footprint. Quick two-day install
Longest industry warranty: 5-year electronics and hydraulics
HySecurity's UPS battery backed up model maintains security during an AC power outage. It produces hundreds of UPS battery backed-up cycles after AC power is severed.
HySecurity Gate Inc. (www.hysecurity.com )designs and manufactures premium and high-reliability commercial, industrial and high security swing, slide, barrier arm and crash gate operators at their factory in Seattle, Washington. This equipment secures The United Nations, The Pentagon, most U.S. embassies, most U.S. International Airports, petrochemical facilities, data centers, and high security assets of every type. HySecurity provides access control point design and specification services to end users, specifiers, architects and engineers.