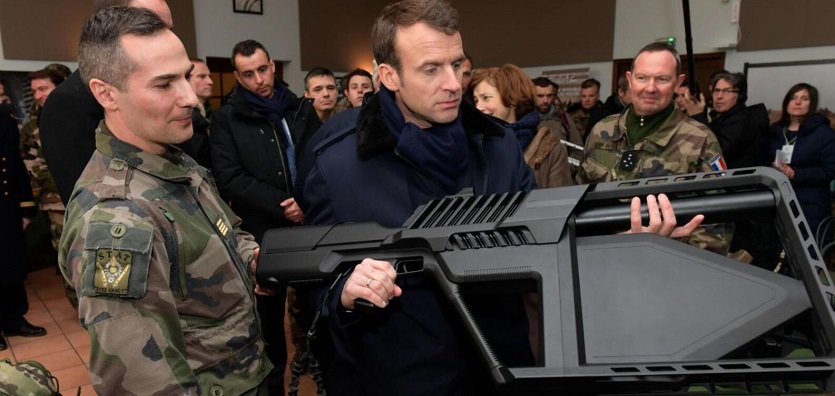 By Bennett Ring
Australian company DroneShield has just announced one of the biggest anti-drone technology sales in Australia's history, with the purchase of 70 DroneGun Tactical weapons to a middle-Eastern Country. While the company isn't able to divulge which country the sales have been made to, we had a chance to interview the company's CEO and MD, Oleg Vornik, to discuss the deal.
The total value of the sales exceeds AU$3.2 million, making it the largest of its type in the Australian defence sector. DroneShield has been developing the DroneGun Tactical and its underlying technology for over five years, and 70 units of the DroneGun Tactical will be deployed soon to the unnamed country. This is the largest deal for the company to date, which is currently targeting approximately 50 countries for sales of its products.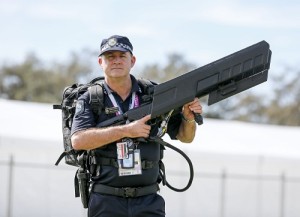 The DroneGun Tactical uses a similar design to a standard rifle, using a default stock, handgrip and trigger configuration, making it simple to train soldiers familiar with traditional weapons. It would have been possible to use a simple box and button style design, but DroneShield decided to use a more traditional layout to simplify training. Included in the deal is on-the-ground training of the system by DroneShield staff. Weighing just 6.5kg including twin Lithium-Ion batteries and with a range of up to 1km, the DroneGun Tactical uses jamming technology to disable consumer-level drones, known as a "soft-kill device", unlike the destructive technologies used by other anti-drone technologies on the market. Destructive defence devices currently include lasers, ballistic weapons and shockwave-technology.
The DroneGun Tactical can jam devices across multiple RF band simultaneously, including 433MHz, 915MHz, 2.4GHz and 5.8GHz, and will immediately disable video feedback to the operator. It can also use optional GNSS disruption, blocking both GPS and GLONASS navigation systems. According to Mr Vornik, the jamming nature of the DroneGun gives it a distinct advantage over other technologies, as it means that each disabled drone can be retrieved and analysed. There's also the risk of collateral damage when using destructive anti-drone technologies, especially if the drone is equipped with explosives. As a result, Mr Vornik believes these reasons proved to be a competitive advantage for DroneShield when compared to competing tenders for the deal.
The DroneGun Tactical is designed to target consumer drones, as these affordable devices are now being used in a variety of roles that require active-defence measures, not only by the military, but also by private corporations. The use of these drones is primarily in counter-surveillance, but Mr Vornik also delved into other nefarious measures where today's drones can prove to be a threat. "A drone like a DJI Phantom can easily carry two 40mm grenades, each weighing a quarter of a kilogram, which it can then deploy. It's not going to destroy a building, but it can kill several people and cause a distraction. They can also be used to carry toxins and dirty bombs, where you don't necessarily need a large volume". Commercial operators are also at risk, even if the drones aren't modified at all. "At airports they can be sucked into aircraft engines, potentially blowing up the engine and bringing the aircraft down. They can also drop into the cooling stack of a power station, shutting down the station and leading to months of repairs."
Recent uses of consumer drones in such attacks include the Israeli interception of an Iranian drone, reports of Yemen's Houthi faction to attack a Saudi Aramco facility and a recent attempted attack on the Saudi Arabian Abha international airport.
DroneShield has focused on jamming technologies rather than taking control of the hostile drone device, as the huge range of encryption protocols and frequencies currently used by various consumer drones makes the latter a much harder task. While it is possible to develop anti-drone technology to do so, they're very limited in their scope. This is because methods that take control of the drone can only handle particular models, but they require knowledge of the specific signature of each drone type. This is easily combatted by rogue drone operators by altering the drone's firmware or operating system.
This is not the first time the DroneGun technology has been employed, with its recent use at both the Commonwealth Games and the ASEAN leader's conference in Sydney. Before being employed at these events, the DroneShield technology underwent substantial evaluation by the Australian Military. Mr Vornik believes the most recent sale puts DroneShield at the "…forefront of the industry, and is likely to have a substantial positive effect on DroneShield's corporate discussions with larger industry players".
As well as offering the mobile DroneGun device, DroneShield also sells two installation based devices that are automated and designed to cover a much larger area. The first is the DroneSentinel, which uses a modular, multi-sensor solution that can cover ranges of up to 5km. The second is DroneSentry, which adds anti-drone technology to knock out incoming threats and which can handle swarm attacks of multiple drone devices simultaneously. Both systems use a combination of radar, radio frequency, acoustic and thermal detection to detect incoming unauthorised drones, which are then passed to the operator via an easy-to-use GUI-based system.
While deliveries of the DroneGun tactical are imminent, the sale is currently subject to approval by a U.S. regulator overseeing defence exports. However, DroneShield expects to receive this approval within the next two months using the established U.S. defence sale approval process.